Slimming World Scone Recipe – with 'Clotted Cream'!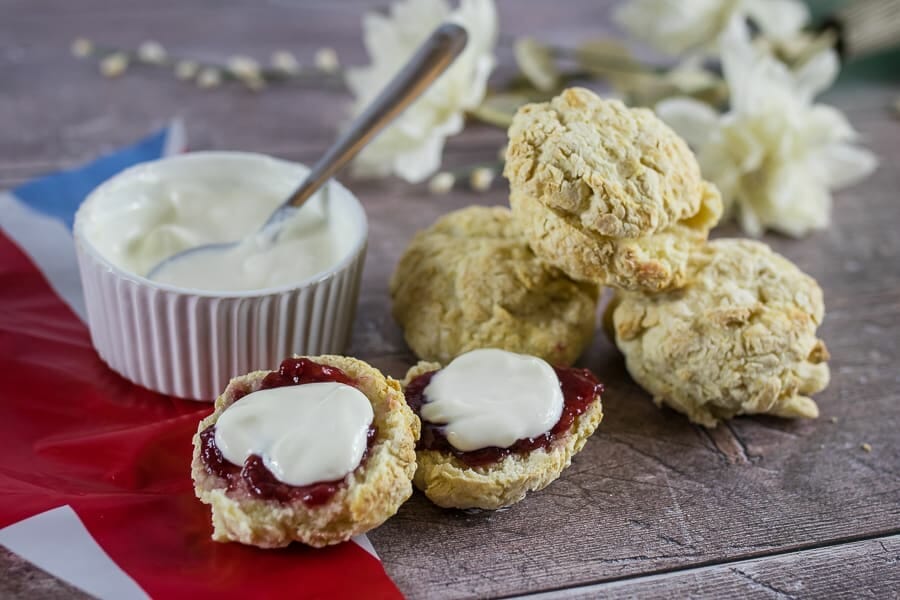 This Slimming World scone recipe is easy to make with minimal ingredients and just 5.5 syns INCLUDING jam (or lemon curd) and my version of 'clotted cream'. They are perfect for a traditionally English afternoon tea without all the guilt and a great way to celebrate a birthday or any other type of celebration.
As a former Slimming World consultant, I am well aware that many of my members miss many things which aren't so great for you. One of those things is a traditional cream tea with scones, jam and cream. I miss it too. So I wanted to come up with a way to enjoy this very British way of eating without the guilt.
How many syns in a scone?
Did you know that a plain scone alone can contain 12.5 syns. If you are on a maximum of 15 syns per day then you have almost reached your daily quota already. That's without the clotted cream and jam! Those things will add on a further 5 syns taking you over your daily allowance.
Instead, how about a scone with all the flavour and less of the syns? Extremely similar to a regular scone and, I have to say, after eating one of these beauties I didn't have that horrible 'uncomfortably full' feeling you can get after eating something stodgy.
When your other half comes up to you and says 'what on earth did you put in those scones?' and I reply with 'Why? What is wrong' and he responds with 'They are the best scones I have EVER had in my life!' (in a serious voice) then you know they are good!
The Slimming World Scone Recipe with Low Syn Clotted Cream
You can find a printable version of this recipe further down in this post.
Makes 4 at 4 syns each (5.5 syns including 'Clotted Cream')
Ingredients – for the Scones
100g of self-raising flour
1 tsp baking powder
1 tbsp granulated sweetner
1 tsp vanilla essence
Around 4 tbsp Fat Free Fromage Frais – enough to bind into a dough
For the 'Clotted Cream'
25g Asda 50% Light Soft Cheese (or similar)
15g Fat Free Fromage Frais
1 tbsp granulated sweetener
Method
Mix dry ingredients together
Add vanilla essence
Add the fromage frais little by little and combine to make a dough with as little mixing as possible
Divide mixture into 4 and roll into balls then flatten to form a scone shape
Place well spaced out on a baking tray lined with foil
Score each round deeply into quarters
Bake at Gas Mark 7 for around 15 minutes, or until golden & hollow sounding when tapped
Mix together all the ingredients for the 'Clotted Cream' and chill
Leave the scones to cool and then top with reduced sugar raspberry jam (0.5 syns) or lemon curd (0.5 syns) and the Slimming World 'Clotted Cream'
I can safely say that these are totally worth it. Minimum effort with maximum taste. These days, I find real cream too reach but the creaminess of the soft cheese mixed with fromage frais and sweetner is enough to curb any craving for clotted cream and far less rich in taste too.
Print Recipe
Slimming World Scones – with 'Clotted Cream'
A low-syn version of a traditional English favourite. These scones work out at 4 syns each. Add a teaspoon of lemon curd or reduced sugar raspberry jam and my version of cream for an extra 1.5 syns per scone so a total of 5.5 syns.
Ingredients
For the Scones
100

grams

self-raising flour

1

tsp

baking powder

1

tbsp

granulated sweetener

1

tsp

vanilla essence

4

tbsp

Fat Free Fromage Frais

This is approximate – you need enough to bind into a dough
For the 'Clotted Cream'
25

grams

Asda 50% Light Soft Cheese (or similar)

15

grams

Fat Free Fromage Frais

1

tbsp

Sweetener
Instructions
For the Scones
Mix dry ingredients together

Add the fromage frais little by little and combine to make a dough with as little mixing as possible

Divide mixture into 4 and roll into balls then flatten to form a scone shape

Place well spaced out on a baking tray lined with foil

Score each round deeply into quarters

Bake at Gas Mark 7 for around 15 minutes, or until golden & hollow sounding when tapped

Leave the scones to cool and then top with reduced sugar raspberry jam (0.5 syns) or lemon curd (0.5 syns) and the Slimming World 'Clotted Cream'
For the 'Clotted Cream'
Whilst the scones are baking, mix together all the ingredients and chill
For more Slimming World recipes please support these bloggers:
---
Copyright protected by Digiprove © 2020 Victoria Welton