Well, well, well. Welcome to Post Comment Love and the beginning of June. And we all know what June means, don't we? BritMums Live is just round the corner!!
Please say hi to Dan from DannyUK who is this week's badge feature. Simply click on the badge to visit his blog.
I don't know about you but I have found this half term week absolutely exhausting and I couldn't even tell you specifically what we have done.
I can tell you what we are doing tomorrow though! We are off to the Royal Bath and West Show as guests of Barbers cheese. I am taking part in the quest to make the Ultimate Cheese Toastie. It is a sort of Great British Cheese-Off!! Grace is rather excited by the prospect. I am more daunted. I won't tell you at this stage what is going into my toastie as I don't want the competition (two other bloggers) to get any ideas! Although I did practice it for tea last night and it was lovely! Watch out for my photos on Instagram 🙂 
My posts this week include a review of the new OXO Shake and Flavour, yesterday's Prose for Thought which is a poem I wrote nearly twenty years ago and my post showing what I am wearing to BritMums Live together with a 25% discount for M&Co valid until Sunday.
Thank you to everyone who linked up the 'About Me' special. Don't forget it is open to join until April 2015 – so if you are new then it is a great place to introduce yourself and it is also a great resource to find out about your fellow bloggers. 
As there are now so many linkers (and thank you SO much for your support) I will only be tweeting out the posts that are linked to PoCoLo or are displaying the PoCoLo badge either on their blog or in the post you have written. I hope you understand xx
This week #SoFoLo is for your Pinterest account – a social media platform that I am slowly getting to grips with and starting to love. So pop over and share your profile. If you find yourself already following someone, then why not 'repin' something and like something of theirs and spread the love? Also, don't forget our #SoFoLo community on Google + and our #PoCoLo Facebook group where you can come and post your PoCoLo post for some more shares as well as any of your social media accounts of yours that need more followers.
If you are a regular here then it would be great if you spread the #PoCoLo word. However, if you are new here then welcome! Post Comment Love is all about sharing posts which you have written this week which just haven't got the attention they deserve and, with them all in one place, we can help each other share the comment love. This is one of the easiest links EVER. You don't have a 'special theme' to have to write about, the post can be personal, sponsored, a photo, a review, a competition, your own linky, something you've linked to a linky….WHATEVER you like – it's one you've already written this week! If you want some publicity and attention, then you are in the right place!
Please make sure you go across and comment on at least two other linkers posts. Linkys work if everyone supports each other 🙂 then spread the #PoCoLo about this link up on Twitter. The post you link up has to have been written in the last week. The link will go up every Friday at 6.30am and close on Sunday evening at 8pm.
I have a list for the Newbie Showcase running into April 2015. If you would like to be featured then please email me at [email protected] so I can put you on the rota. Remember, your blog needs to be under a year old to feature from the time of sending your email to me. I believe I am currently up to date with your emails (for a change!).
This week's newbie showcase is the lovely laidbackmumof4. Please go and pay her a visit, have a browse round her blog and say hi! 
Hello all, and thanks for having me on the Newbie Showcase!
I am a 40 year old mother of 4 from Hertfordshire, and, according to my friends, fairly laid back about raising 3 boys and a girl, hence my blogger name 
laidbackmumof4.blogspot.co.uk
.
I started blogging at the end of June last year so it's nearly my first year anniversary, and what a great year it's been! I have met some lovely people, both on-line and in person, and read so many fantastic blogs, it's an inspiring community.
I started my blog as a way of imparting some (hopefully!) useful advice to new parents through my own experiences. My eldest is now 14 but I still remember the trials and tribulations of being a parent of a newborn, watching them grow into toddlers, preteens and now teenagers. It's an exciting and rewarding process, despite it's share of tears, exhaustion and guilt that goes with it, but I hope some of my posts are relatable, empathise with similar situations you experience, and make you laugh a little when I share my memories!
I have also shared other musings, such as "The Problem With Being a Woman" and "Food Obsession vs Keeping Fit", alternative posts that relate more to where I am now in my life.
Thanks for reading!
So, whether you want to #PoCoLo, #SoCoLo or both, please pay Liz, and all the lovely linkers below, a visit. Have a great weekend xx
Go Over and Link Your #SoFoLo Pinterest Pages HERE.
Link Your PoCoLo Posts here: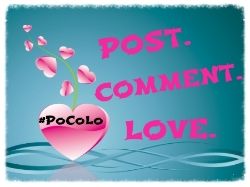 <div align="center"><a href="https://www.vevivos.com/post-comment-love" title="Post Comment Love"><img src=" http://i1322.photobucket.com/albums/u568/ToriWel/4e4a1bf6-07cb-494b-b06e-f959b1fe1311_zps654d027a.jpg" alt="Post Comment Love" style="border:none;" /></a></div>
Copyright protected by Digiprove © 2014 Victoria Welton