Welcome everyone to this weeks Post Comment Love. I don't know about you but although I really love spending time with Grace during the school holidays, I do also find it rather tricky when the normal routine goes out of the window!
This week's featured badge belongs to Siobhan from the blog Everyone Else Is Normal – a blog I have been following pretty much from the start. I always remember her as Beaker Lady! Click on her badge if you would like to pay a visit.
Yesterday I shared a poem I wrote a few years back. An article in the Birmingham Post last Sunday infuriated me so I had to redress the balance a little bit.
This week has been busy but good. On Tuesday, Grace had a friend round but we landed up in the local hospital in the afternoon due to a rather silly game where Grace fell off a chair and into a chest of drawers! She was fine though – although the very large lump on her head scared me no end!
Yesterday we went for a lovely afternoon tea in Guildford with my Mum, Grace and my niece, Emily. As Lewis Carroll was born in Guildford, the tea was on a Queen of Hearts theme and the cakes and sandwiches were cut in a heart shape. We also had scones and jelly. It was lovely. Then, last night, Ross and I went to visit our friends Iain and Patrice and caught up on last weekend's Wrestlemania. I am really excited because this weekend I am off to watch Ross' band, D-State, headline the Yeovil Beer Festival.
Tomorrow night voting for the BiB Awards over on BritMums closes. Don't forget to vote for your favourite blogs. You can find the category page here. I know there seems to be a lot of voting going on at the moment but it does mean so much to bloggers to know that you appreciate what they write or photograph or make. If you are interested in choosing me for one of the categories then I would love to be considered for Innovate, Social Media or Writer. And don't forget our children's blog, kidGLloves for Fresh Voice, Laugh or Family.
This week's #SoFoLo is back round to Facebook due to popular demand! If you find you are already following someone, then why not comment on or share one of their posts and don't forget to use the SoFoLo hashtag so they know where you came from. To find out more then please pop over to share your profile and receive some follows from fellow linkers.  Don't forget our #SoFoLo communityfollow too where you can come and post your PoCoLo post for some more +1s and shares as well as any of your social media accounts of yours that need more followers.
If you are a regular here then it would be great if you spread the #PoCoLo word. However, if you are new here then welcome! Post Comment Love is all about sharing posts which you have written this week which just haven't got the attention they deserve and, with them all in one place, we can help each other share the comment love. This is one of the easiest links EVER. You don't have a 'special theme' to have to write about, the post can be personal, sponsored, a photo, a review, a competition, your own linky, something you've linked to a linky….WHATEVER you like – it's one you've already written this week! If you want some publicity and attention, then you are in the right place!
Please make sure you go across and comment on at least two other linkers posts. Linkys work if everyone supports each other 🙂 then spread the #PoCoLo about this link up on Twitter. The post you link up has to have been written in the last week. The link will go up every Friday at 6.30am and close on Sunday evening at 8pm.
I have a list for the Newbie Showcase running into February 2015!! If you would like to be featured then please email me at vickywelton@hotmail.com so I can put you on the rota. Remember, your blog needs to be under a year old to feature.
When I was pregnant with Effy, I tried to write a pregnancy journal. I stopped at about 15 weeks. I don't know why, but I lost momentum. I remember thinking I could never write a journal for subsequent babies in the interest of fairness (the teacher in me is all about the fairness!). Then last April, just after she turned one, I realised that I was forgetting things; her milestones, our journeys, our achievements and our conundrums. I took hundreds of photographs but had nowhere to showcase them. A blog was the answer, and later this month, Thursday's Child, Friday's Thoughts celebrates it's first birthday. Named because Effy was born on a Thursday and Friday has been my day off from work and my time to think, I found writing stuff down not only helped me remember, but also became really therapeutic; a way of organising my thoughts. And often by writing it down I solved my own problems. Then in June I fell pregnant with Lowen and my blog recorded my pregnancy and helped my reminisce about pregnancy first time around, in the absence of a completed journal.
Interspersed between my parenting ups, downs and discoveries are some of my other loves; photography in abundance, crochet, the great outdoors (exploring beautiful Northamptonshire, having married a local and made it my home) and fluffy cloth nappies, to name but a few. I also host a little linky, Family Photo Friday each week for sharing and linking up a family photo, a little record of how our families grow and change over time… New faces are always welcome!
So here we are, a foursome. A little more chaotic than ever before but well documented and enjoying making memories none the less. I'd love it if you could stop by and share our journey.
http://thursdayschild-fridaysthoughts.blogspot.co.uk
www.facebook.com/thursdaychildfridaysthoughts
So, whether you want to #PoCoLo, #SoFoLo or both, please pay our lovely newbie showcase a visit as well as some of the lovely linkers below. Have a great weekend xx
Link Your PoCoLo Posts here:
Go Over and Link Your #SoFoLo Facebook Pages HERE.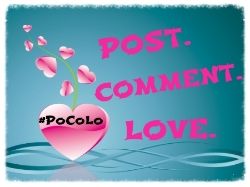 <div align="center"><a href="https://www.vevivos.com/post-comment-love" title="Post Comment Love"><img src=" http://i1322.photobucket.com/albums/u568/ToriWel/4e4a1bf6-07cb-494b-b06e-f959b1fe1311_zps654d027a.jpg" alt="Post Comment Love" style="border:none;" /></a></div>
I am so excited to have made this years finals of the MAD Blog Awards in 'Most Innovative' once again and would love the chance to win my category this year. If you would like to support me then please go to http://www.the-mads.com/vote/ and choose 'Vevivos' in the drop down menu. Also, if you would be kind enough to vote for me in the BiBs, my chosen categories are on my side bar to the right, near the top. Just click on those to take you across. Thank you so much for your valued support 🙂 x
Copyright protected by Digiprove © 2014 Victoria Welton