Welcome every one to this week's Prose for Thought and thank you to all the people – new and regular – who linked up last week.
Firstly I must say congratulations to my poetry and prose co-editor over on BritMums. Stephanie, and her fabulous blog Beautiful Misbehaviour, has made it into the finals of the BiB Awards 2014 in the Fresh Voice category. I wish her all the very best.
Yesterday saw the sad news of the passing of the inspirational author and poet, Maya Angelou. The more I read about this woman, the more amazing I find her. She has shared many of her wonderful quotes which I find extremely motivating. Whilst she will be missed, her words will always live on.
Talking of motivation, for some reason I have found it really hard this week. I don't have a clue why! I guess we can't be completely inspired all of the time and sometimes our brains need to take a little break, take stock, refresh and come back again for another burst.
So, with that in mind, this week I am sharing another one of my older pieces.
Don't Want To Let You Go
Can't you see that you are my world
And it's your face that stands out in a crowd
I want you to know I'll never stray from your side
I'll never do anything to damage your pride
I want you to know that this love is for real
It's you that I want and this way that I feel
Darling, I don't want to let you go
In the beginning I was scared to let it show
Now you're here and I don't want to let go
Scared of my hopes being dashed to the ground
That you'll take away all of these feelings I found
I hope that you see I am not like the rest
What I give to you is always my best
Darling, I don't want to let you go
I hope you'll learn to put your trust in me
On our side is time, for you and for me
On my word, I won't cause you heartache
For you there's no sacrifice too great to make
I didn't know you would make me feel like this
The thrill of your touch, the warmth of your kiss
Darling, don't ever let me go
Victoria Welton 1995
If you have your own poem or piece of prose to share then grab my badge code and click the link below to enter your post. If you share a link back to my page in your post then you will be guaranteed some free publicity from me on Twitter! Don't forget to use #Prose4T when tweeting your post. Check out the Prose for Thought page for full details.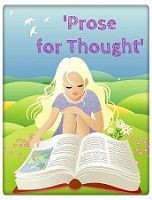 <div align="center"><a href="https://www.vevivos.com/prose-for-thought" title="Prose for Thought"><img src=" http://i1322.photobucket.com/albums/u568/ToriWel/Proseimagesmall_zps637beb08.jpg " alt="Prose for Thought" style="border:none;" /></a></div>
Copyright protected by Digiprove © 2014-2015 Victoria Welton