Welcome to this week's Post Comment Love where I am looking forward to a weekend of sunshine! We are off to Portland to see Ross' parents as, not only is it his Mum's birthday but it is also Fathers Day so lots of celebrating to be had.
This weeks featured blog badge is Nadine Hill from Juggle Mum. If you like to pop over and say hi to her then simply click on the badge. There is no one left on the rota for this now so if you would like your badge featured then please do email me.
This week my posts include information about World Blood Donor Day on 14th June and how, this year, it is supporting mothers, yesterday's Prose for Thought which is a poem for Ross and I am also running a giveaway to win some relaxation and conception gifts courtesy of my BritMums Live sponsor Zita West.  If you pop over to this post you can bag yourself a FREE (yes,that's right, I said FREE!) canvas print from Picanova. As well as all of this I have now written about our Dulux Bedroom in a Box experience which you will find in the link up below. I would also love some more sponsors for the Race for Life which I am doing on 13th July.
The 'About Me' special is still open to join until April 2015 – so if you are new then it is a great place to introduce yourself and it is also a great resource to find out about your fellow bloggers. 
There are so many linkers now that I am finding it hard to get around everyone! I am going to try out a couple of systems to ensure that everyone gets seen so bear with me while I find out what works for me as well as helps you and then, when I have tried and tested, then I will let you all know how I will be running the show! 
This week #SoFoLo is for Facebook, but not just a Facebook 'like' (although please feel free to do that too!). This is for people to go over and comment on a specific post or photo on your Facebook page that you would like people to interact with. To find out more then nip over to this weeks #SoFoLo page. Also, don't forget our #SoFoLo community on Google + and our #PoCoLo Facebook group where you can come and post your PoCoLo post for some more shares as well as any of your social media accounts of yours that need more followers.
If you are a regular here then it would be great if you spread the #PoCoLo word. However, if you are new here then welcome! Post Comment Love is all about sharing posts which you have written this week which just haven't got the attention they deserve and, with them all in one place, we can help each other share the comment love. This is one of the easiest links EVER. You don't have a 'special theme' to have to write about, the post can be personal, sponsored, a photo, a review, a competition, your own linky, something you've linked to a linky….WHATEVER you like – it's one you've already written this week! If you want some publicity and attention, then you are in the right place!
Please make sure you go across and comment on at least two other linkers posts. Linkys work if everyone supports each other 🙂 then spread the #PoCoLo about this link up on Twitter. The post you link up has to have been written in the last week. The link will go up every Friday at 6.30am and close on Sunday evening at 8pm.
I have a list for the Newbie Showcase running into April 2015. If you would like to be featured then please email me at [email protected] so I can put you on the rota. Remember, your blog needs to be under a year old to feature from the time of sending your email to me. There are a couple of people that I need to get back to so please bear with me! 
This week's newbie showcase is  Charlotte from Raising Wild Ones (great name for a blog). Please welcome her.
Hi I'm Charlotte and I blog at 
www.raisingwildones.com
 (formerly Winegums & Watermelons). I have two little boys Jakob and Joshua, who are 3 and 5 and we unschool (home educate). I am also a student midwife due to qualify in less than 3 months – eek!
I started the blog in October, mainly to record our days out together and activities and crafts we do, however I now write about lot's of different things – whatever takes my fancy I guess! I don't get to blog as much as I'd like to due to work and uni but it's a hobby I've quickly come to love – especially the social side of it. I had never used twitter or instagram before blogging but now I'm totally addicted! You can find me at @raisingwildones on both, please feel free to follow or tweet me, I always respond 🙂
As a family we are pretty enthusiastic about our kids growing up with a meaningful connection to nature (hence the blog name!) so you can often find us building dens, climbing hills, exploring forest, paddling in rivers etc! I love finding new blogs to read so please come by, drop me a message or tweet and I look forward to speaking to you soon 🙂
You can find Raising Wild Ones on Twitter, Facebook and
Google +
So, whether you want to #PoCoLo, #SoCoLo or both, please pay Charlotte, and all the lovely linkers below, a visit. Have a great weekend xx
Go Over and Link Your #SoFoLo Facebook Posts for comments HERE.
Link Your PoCoLo Posts here: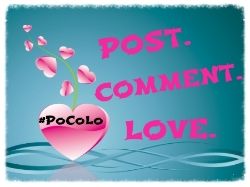 <div align="center"><a href="https://www.vevivos.com/post-comment-love" title="Post Comment Love"><img src=" http://i1322.photobucket.com/albums/u568/ToriWel/4e4a1bf6-07cb-494b-b06e-f959b1fe1311_zps654d027a.jpg" alt="Post Comment Love" style="border:none;" /></a></div>
Copyright protected by Digiprove © 2014-2016 Victoria Welton