Welcome to this week's Prose for Thought. I firstly need to say a big thank you to all of you who commented on, and supported me, with regards to my poem last week and the rubbish time I was having.
Whilst the driving school company has not yet been resolved, I have not only taken on a new student this week (one I found off my own back) but the other company I mentioned paid my invoice with the overdue charge the very next day!!
This week is a much happier and light-hearted week and, although I am still overly busy (when aren't I?! and when am I going to get some decent business time management skills!?) it doesn't prevent me from stopping to think every once in a while and, this week, I have been mainly thinking about Ross and what he means to me.
I didn't want to do a standard, run-of-the-mill, love poem, so I came up with something a little bit different. I hope you like it!
The Senses of You
I see your eyes dance in the light
I feel you hold me in the night
I taste your lips so sweet on mine
I hear you sing, your voice divine
I smell you and that comforts me
The senses of you makes sense to me
Seeing you makes me feel better
Feeling your hand through stormy weather
Tasting the bolognese that you made
Hearing your voice, may it never fade
Smelling the air as we walk by the sea
The senses of you makes sense to me
Your eyes they look so strong and bold
Your hands touch me as we grow old
Your taste in films and humour we share
Your laughter I hear when it fills the air
Your nose may sometimes turn up at me
The senses of you make sense to me
Victoria Welton 11th June 2014
If you have your own poem or piece of prose to share then grab my badge code and click the link below to enter your post. If you share a link back to my page in your post then you will be guaranteed some free publicity from me on Twitter! Don't forget to use #Prose4T when tweeting your post. Check out the Prose for Thought page for full details.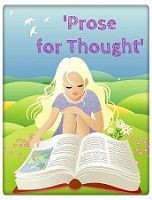 <div align="center"><a href="https://www.vevivos.com/prose-for-thought" title="Prose for Thought"><img src=" http://i1322.photobucket.com/albums/u568/ToriWel/Proseimagesmall_zps637beb08.jpg " alt="Prose for Thought" style="border:none;" /></a></div>
Copyright protected by Digiprove © 2014 Victoria Welton