Welcome everyone to this week's 'ranty' Prose for Thought. There is a poem at the bottom so PLEASE don't go…if you want to skip past my rant then please do!
The last week has really been tough. To the point where I want to tell the whole world where to go (and it isn't to paradise, believe me!). Why is it,because I am self-employed, do people think they don't have to pay me? And why do so many people want something for nothing? And why, oh why, do I make what I fully believe to be a sensible decision and then go and get shat on from a great height.
Firstly, companies, where do you get off not paying people or being rude or expecting something for nothing? Don't get me wrong, I am VERY lucky, a majority of the companies I deal with are wonderful people. They are a joy to work with, understanding and respectful that we are all achieving something together. But then there are people like this….
Just been told to 'Fuck off' by the MD of @weareimprove – that's real nice, quality SEO there! #bloggers beware!

— Kate Fever (@FamilyFever) May 29, 2014
How rude and unprofessional can you get?!
This week I chased a company for payment. On all of the invoices I send I state that payment is due within 30 days from the date of the invoice and, after that time then interest shall be charged at £10 per week. I sent an invoice out dated 30th April 2014. On 7th May I received a response. The company in question accepted these terms by stating, and I quote:
'Thank you for sending across your invoice #XXXX. It has been received and approved. All April invoices will fall due at the end of May.'
Then, because I hadn't received payment at the end of May, I sent another email yesterday with a new invoice listing the overdue payment charge. This is what I received back:
'I'm afraid we don't pay overdue charge. We will start processing payments on Friday. You should expect to receive your payment that day.'
Obviously, I wasn't accepting that so I wrote:
'When you accepted the invoice from me, then you accepted the overdue charges especially when you said in your email dated 7th May that my invoice had been 'received and approved. In the same email, you stated that all invoices from April would fall due at the end of May. From my last check of today's date we are now well past the end of May. My overdue charge stands and I would like to receive payment please.'
The response?
'Thank you for your feedback. I understand your point. As far as I know we don't pay overdue fees. However, I will speak to my superior about it and will get back to you on this regarding.'
I know my rights, so I replied with the following:
'When you speak to your superior it may be worth mentioning to them that I have studied Breach of Contract Law, represented myself in court and won. The very thing that won me the case is the fact that the solicitors in question (in this case, Manches, the firm who represented Guy Ritchie in his divorce against Madonna) accepted terms by saying that they agreed to something.'
I am waiting with interest to see what happens next!
Finally, I have experienced something this week which has infuriated me. To the point where I feel like a complete and utter mug. My new Driving School Franchise.
Back in March I made the decision to return to teaching after the Easter holidays. It wasn't a decision I took lightly as I know it is a lot of work and driving tuition can be a really tough job but I need the money and I know it is something that I am good at.
I took over two weeks comparing companies financially to see how they would benefit me and what they offered me in return for my money and I then I made my decision. One, this week, I came to regret.
The Driving School had been sold to a new owner. He has discovered that what he has bought is a complete and utter mess. Many instructors have had no work for months, nothing has been done and the company was taking people's money hand over fist and doing nothing in return. This has left me with a car sitting on my drive costing me money. Thankfully I had the forethought to cancel the payments to my franchise last month when I thought something fishy was going on!
I have now offered to help the new owner out of this mess by working on the social media side. He had to visit his solicitor on Monday to take out an injunction against the former owner who is still trying to sabotage the business!
So, with all of this in mind, and for anyone else who is having a shit time with a bad company, this poem is for you!
Don't Wipe Your Feet On Me, I'm Not A Doormat
Don't wipe your feet on me
I'm not a doormat
You've used and abused
And I'm not down with that
Taken too much from you
And I can't stand no more
If you can't treat me right
Then I'll show you the door
Just because I work
Doesn't mean you don't pay me
I'll chase for what you owe
And, if necessary, daily
And why is it
That you have to be rude
I have bills to pay
And I need to buy food
As a person, mostly
I'm a happy soul
But if you wind me up
Then just watch me go!
You can carry on
With your stupid protest
But all you're really doing
Is becoming a pest
You can't give your word
Then turn around and break it
I don't care who you are
No, don't try and fake it
Stop, please, really
Now you're digging a hole
And believe me when I say
You have nowhere to go
You are one giant
Massive, pain in the arse
All of this is turning into
One really stupid farce
So, give it up now
Because you really won't win
You are in the wrong here
Wipe off that stupid grin
No, really, I mean it
I'm not taking your crap
So don't wipe your feet on me
I'm not a doormat
Victoria Welton 4th June 2014.
If you have your own poem or piece of prose to share then grab my badge code and click the link below to enter your post. If you share a link back to my page in your post then you will be guaranteed some free publicity from me on Twitter! Don't forget to use #Prose4T when tweeting your post. Check out the Prose for Thought page for full details.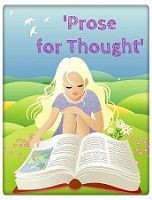 <div align="center"><a href="https://www.vevivos.com/prose-for-thought" title="Prose for Thought"><img src=" http://i1322.photobucket.com/albums/u568/ToriWel/Proseimagesmall_zps637beb08.jpg " alt="Prose for Thought" style="border:none;" /></a></div>
Copyright protected by Digiprove © 2014 Victoria Welton