Welcome, welcome one and all to this week's Post Comment Love. I have had a fantastic week, not only because I really enjoyed Britmums Live (thank you so much to all the lovely people I managed to say hello to, and sorry to those I didn't) but I have also been to a health retreat for 3 days and my goodness do I feel amazing or what?! It wasn't a spa, it was about re-educating yourself with regards to the way you are eating and treating your body and I absolutely loved it. Now, this weekend is all about spending time with my family.
This week I have shared the top ten tips in how to get the best hotel deal, you could win a mystery toy basket from Warner Bros and DC Kids, my photography and poetry prompt is the word 'Outside' and I have written up my interview with Peter Cox from Go West (my favourite group ever!).
This week's #SoFoLo is for Twitter. Simply pop over to the SoFoLo post to find out more. Also, don't forget our #SoFoLo community on Google + and our #PoCoLo Facebook group where you can go and post your PoCoLo post for some more shares as well as any of your social media accounts of yours that need more followers.
If you are a regular here then it would be great if you spread the #PoCoLo word. However, if you are new here then welcome! Post Comment Love is all about sharing posts which you have written this week which just haven't got the attention they deserve and, with them all in one place, we can help each other share the comment love. This is one of the easiest links EVER. You don't have a 'special theme' to have to write about, the post can be personal, sponsored, a photo, a review, a competition, your own linky, something you've linked to a linky….WHATEVER you like – it's one you've already written this week! If you want some publicity and attention, then you are in the right place!
Please make sure you go across and comment on at least two other linkers posts. Linkys work if everyone supports each other
 then spread the #PoCoLo about this link up on Twitter. The post you link up has to have been written in the last week. The link will go up every Friday at 6.30am and close on Sunday evening at 8pm. I will make sure I retweet anyone and also try my best to tweet out the posts with the PoCoLo badge being displayed on either the post or the sidebar.
I have a list for the Newbie Showcase running into February 2016. If you would like to be featured then please email me at [email protected] so I can put you on the rota. Remember, your blog needs to be under a year old to feature from the time of sending your email to me. I promise that if you are waiting to hear from me then I will get back to you by Monday. If you have emailed me and not heard from me by then, please do send me another message or tweet me! 
This week, please welcome the very lovely Tracy from Mummyshire.
Hi!  I'm Tracey, and welcome to Mummyshire which I started when we upped sticks and left London with a pre-school girl, a 7week old baby boy, I gave up my job and we relocated in Oxford countryside.
I love London (no, I REALLY do!) but it was time to move up river to bring up the family.  I love food but I'm no Nigella when it comes to cooking, I'm always trying to do at least three things at once – I don't do slow, never have, but I'm learning to slow down!
Mummyshire is where I share the challenges of being an Urban mummy with dual heritage children adapting to life outside of London,  quick fix recipes, the amazing new places we've found as we've gone all Country Kids but we still 'keep it real' with lots of London activity updates too.  Oh, and you'll hear the odd rant when I crave some Dim Sum but can't get to a noodle bar without going on a train and equality issues
So Welcome to Mummy in the [Oxford]shire:  welcome to Mummyshire xx
My social links are
website:  http://www.mummyshire.com
twitter:  @mummyshire
facebook:   https://www.facebook.com/mummyshire
google+  https://plus.google.com/u/0/+TraceyGrannumMummyshireblog/
Instagram:  https://instagram.com/mummyshire/
Email:  [email protected]
Pinterest:  https://www.pinterest.com/mummyshire0231/
So please go and say hi to Tracy and all the other lovely bloggers who have linked up below. Have a great weekend everyone xx
Go Over and share your Instagram profile with #SoFoLo HERE.
Link Your PoCoLo Posts here: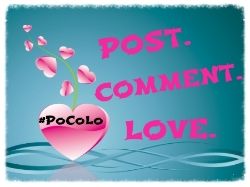 <div align="center"><a href="https://www.vevivos.com/post-comment-love" title="Post Comment Love"><img src=" http://i1322.photobucket.com/albums/u568/ToriWel/4e4a1bf6-07cb-494b-b06e-f959b1fe1311_zps654d027a.jpg" alt="Post Comment Love" style="border:none;" /></a></div>
Copyright protected by Digiprove © 2015 Victoria Welton