Happy Easter everyone. I have to say that this last week has been one of the quickest ever! Welcome back to Friday and Post Comment Love. I was thrilled to be able to get round and comment on everyone's post last week. Thank you so much if you were one of the linkers. I really do appreciate your support every week.
I had a great weekend at Traverse, followed by spending some time with my Mum and then meeting my new nephew. He was born 5 weeks early and is utterly gorgeous. Then, on Wednesday, Ross, Grace and I made a film together. You can find out more about it over on the Facebook page. It was an emotional film to make.
This weekend is a bit quieter with lots of family time. We are off to see the new Cinderella film on Monday and Grace is having a friend to stay.
This week I have written a few posts including details of the big Easter egg hunt with National Trust, as well as a post about lots of different things to do this Easter. There is another photography and poetry prompt from me and a discussion post about taking your child out of school for holidays – which I have linked below.
This week's #SoFoLo is our old faithful Facebook. If you have already 'liked' the page of the blog you click on, why not help them by liking their post, sharing it or leaving a comment – and don't forget to use #SoFoLo so they know where you came from. Pop over and share your page. Also, don't forget our #SoFoLo community on Google + and our #PoCoLo Facebook group where you can come and post your PoCoLo post for some more shares as well as any of your social media accounts of yours that need more followers.
If you are a regular here then it would be great if you spread the #PoCoLo word. However, if you are new here then welcome! Post Comment Love is all about sharing posts which you have written this week which just haven't got the attention they deserve and, with them all in one place, we can help each other share the comment love. This is one of the easiest links EVER. You don't have a 'special theme' to have to write about, the post can be personal, sponsored, a photo, a review, a competition, your own linky, something you've linked to a linky….WHATEVER you like – it's one you've already written this week! If you want some publicity and attention, then you are in the right place!
Please make sure you go across and comment on at least two other linkers posts. Linkys work if everyone supports each other
 then spread the #PoCoLo about this link up on Twitter. The post you link up has to have been written in the last week. The link will go up every Friday at 6.30am and close on Sunday evening at 8pm. I will make sure I retweet anyone and also try my best to tweet out the posts with the PoCoLo badge being displayed on either the post or the sidebar.
I have a list for the Newbie Showcase running into February 2016. If you would like to be featured then please email me at [email protected] so I can put you on the rota. Remember, your blog needs to be under a year old to feature from the time of sending your email to me.
There is no newbie showcase this week. I realised a bit late in the day that the person on the list hadn't come back to me so I thought I would give everyone a bit of a break on that score this week.
If you are joining in then please remember to share the comment love! Have a great weekend xx
Go Over and share your Facebook page with #SoFoLo HERE.
Link Your PoCoLo Posts here: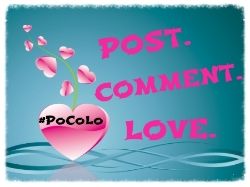 <div align="center"><a href="https://www.vevivos.com/post-comment-love" title="Post Comment Love"><img src=" http://i1322.photobucket.com/albums/u568/ToriWel/4e4a1bf6-07cb-494b-b06e-f959b1fe1311_zps654d027a.jpg" alt="Post Comment Love" style="border:none;" /></a></div>