Here we are again! Post Comment Love day and what a week it has been – and it just keeps getting busier (not that I am complaining in any shape or form). It is the end of March and the Easter holidays begin today. Yippee!
This week was a rather exciting one in the WWW household as we had the WWE wrestler Bob 'Hardcore' Holly come to stay with us for a few days. If you recall Ross wrote his biography for him a couple of years ago and the two of them have remained friends ever since. We all went off to make a short film on Tuesday so watch this space! Grace now has a new bodyguard too 😉
This weekend I will have my Trips100 work head on as I will be attending the Traverse 15 conference in Kingston Upon Thames. We have a day of workshops tomorrow and, on Sunday, I will be on a boat trip along the Thames up to Hampton Court palace. Perfect for photography. I will then be at my Mums for a few days where I will be meeting my new nephew who arrived 5 weeks early and then Grace makes her acting debut as the three of us will be filming next Wednesday. Needless to say that I will be commenting as and when I can!
I need to say a big thanks to everyone who filled in my survey last week. I shall be collating the results over the next week and hope to bring you a combination of what it is you would all like to see from this linky. I also want to say thank you to Lysa at Welcome to My Circus who featured me on her blog this week – and has been sharing it a LOT! The post is on this week's link up.
This week's #SoFoLo is back to your YouTube channels. If you are already following the person you click on, why not help them by liking or leaving a comment on one of their videos – and don't forget to use #SoFoLo so they know where you came from. Pop over and share your channel. Also, don't forget our #SoFoLo community on Google + and our #PoCoLo Facebook group where you can come and post your PoCoLo post for some more shares as well as any of your social media accounts of yours that need more followers.
If you are a regular here then it would be great if you spread the #PoCoLo word. However, if you are new here then welcome! Post Comment Love is all about sharing posts which you have written this week which just haven't got the attention they deserve and, with them all in one place, we can help each other share the comment love. This is one of the easiest links EVER. You don't have a 'special theme' to have to write about, the post can be personal, sponsored, a photo, a review, a competition, your own linky, something you've linked to a linky….WHATEVER you like – it's one you've already written this week! If you want some publicity and attention, then you are in the right place!
Please make sure you go across and comment on at least two other linkers posts. Linkys work if everyone supports each other
 then spread the #PoCoLo about this link up on Twitter. The post you link up has to have been written in the last week. The link will go up every Friday at 6.30am and close on Sunday evening at 8pm. I will make sure I retweet anyone and also try my best to tweet out the posts with the PoCoLo badge being displayed on either the post or the sidebar.
I have a list for the Newbie Showcase running into February 2016. If you would like to be featured then please email me at [email protected] so I can put you on the rota. Remember, your blog needs to be under a year old to feature from the time of sending your email to me.
This week's newbie showcase is one of the newer ones on the block. This lady is a talented writer and great poet. Please say hello to Lucy from Bottle for 2.
Hi I'm Lucy. You may have noticed my blog http://www.bottlefor2.com appear on the scene in January this year.
I feel like the new kid in school. You may have seen me about and kindly come over to say hello. A number of you have, which has been lovely. I'm just waiting for that moment when I get invited to sit with you at lunch!
Think of my blog as conversation amongst friends. The sort where you put the world to rights over a cup of tea at the kitchen table, or reminisce over a bottle of wine and laugh until you pee! (An unfortunate consequence of giving birth, I've discovered).
My blog is mostly focused on writing and storytelling. The Law of Attraction tells the story of me trying to turn the experience of a bad day in to a good day. Yesterday I was reflecting back to the 1970's (the decade I was born) and how parenting skills then, would get you arrested today!
I'd like to take this opportunity to thank the lovely Vicky Welton for inspiring me to write poetry again. I stumbled across her Prose 4 Thought linky and wrote 'A miracle in two years'. It rekindled my long lost love of poetry and now I write quite a few. One of my funny favourites is 'Shut the Front Door'. (You might recognise the excellent illustration by fellow newbie Teacuptoria).
I started blogging to help me find my voice through the haze of motherhood. I was suffering from severe baby brain. I put my career on hold to have my baby and I'm currently trying to figure out what's next.  I don't get out much these days, so blogging has been an amazing way to connect and communicate again.
So please do come over to my blog and maybe even subscribe or follow me on Facebook and Twitter. I'll consider it a lunch invitation. But unlike at school, I'll bring the wine!
Blog: http://www.bottlefor2.com
Please pop over and say hi to Lucy, and don't forget all the other lovely linkers below. If you are joining in then please remember to share the comment love! Have a great weekend xx
Go Over and share your YouTube profile with #SoFoLo HERE.
Link Your PoCoLo Posts here: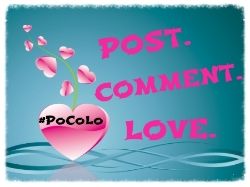 <div align="center"><a href="https://www.vevivos.com/post-comment-love" title="Post Comment Love"><img src=" http://i1322.photobucket.com/albums/u568/ToriWel/4e4a1bf6-07cb-494b-b06e-f959b1fe1311_zps654d027a.jpg" alt="Post Comment Love" style="border:none;" /></a></div>
Copyright protected by Digiprove © 2015-2017 Victoria Welton