I've decided to do my poetry a little bit different this year. I am writing it in a separate post so not only does it mean that I can link my poem to Prose for Thought separately (which is back this Thursday folks!) but I can also link to other linkies as well. .
Therefore I am joining in with a 52 week photography challenge set by Mummy B. I am going to use her prompts as the subjects for my photographs and accompany it with a poem – which means I get a prompt for those too!
So, what better place to start than 'Beginnings'?
The photo I took is quite significant to me. Three buds starting to bloom from the orchid that Ross' parents gave us…with a potential fourth one there.
Afresh, afresh, let's start anew
Much to see and much to do
The year has begun like the bud of a flower
Make it all count, every minute and hour
With all the potential that lays before you
There's no time to waste, so much to do
But don't forget the little things
For they are the stuff that happiness brings
For whilst you are busy fussing and fretting
I am betting there's something you're forgetting
To stop for a while and see what's there
What you have already, the ones who care
Spend more time on what really matters
(Trust me, ones who don't are mad as hatters!)
Hold on tight to this new beginning
By the end of the year, you should be winning
Victoria Welton 6th January 2014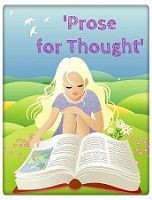 Copyright protected by Digiprove © 2015 Victoria Welton