Prose For Thought – NaPoWriMo Day 25
Today marks Day 25 of NaPoWriMo. That's 25 days in a row that I have written a poem. I was a little worried about Prose For Thought next week and that I might be all poemed out but…I do have have a backlog of poems from a few years back so all is not lost!
Thank you again to everyone who linked up for last week's poetry and prose installment. I was also very chuffed that Emma from Crazy With Twins linked up Wednesday Words with Prose For Thought.
This week's poem is about being a Mum to a new baby. I found it so difficult when I first had Grace. Trying to read a small person who was brand new and she was trying to read me. I've tried to sum it up here.
I'm Your Mum
Brand new, untouched, not spoilt by things
You take your first breath, a life begins
You've no expectations, just use your cry
To tell me what's needed to help you get by
As days go on and you start to grow
Things get easier, I'm starting to know
What you want and what you need
When you're tired or if you need a feed
I'll know you like no one else has or can
Like no other woman or no other man
Brought you into this world is what I have done
Darling, I love you. I'm your Mum.
© Victoria Welton 25th Ap
ril 2013
I would really love and appreciate your comments below – and please, go and visit and comment on, the poems from the people who link up 
If you have your own poem or piece of prose to share then grab my badge code and click the link below to enter your post. If you share a link back to my page in your post then you will be guaranteed some free publicity from me on Twitter! Don't forget to use #Prose4T when tweeting your post (and #NaPoWriMo this week).  Check out the Prose for Thought page for full details.
Like what you see? Then please consider a vote for this blog in the Brilliance in Blogging Awards (BiBs). I have been shortlisted for Innovate, Video and Social Media. The badges are on the top right in my sidebar – just click on them and they will take you to the voting form. Many thanks for your support.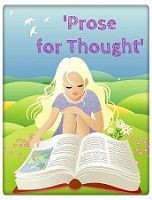 <div align="center"><a href="https://www.vevivos.com/prose-for-thought" title="Prose for Thought"><img src=" http://i1322.photobucket.com/albums/u568/ToriWel/Proseimagesmall_zps637beb08.jpg " alt="Prose for Thought" style="border:none;" /></a></div>