This weekend we are off to the wedding of two friends of ours. I do love a good wedding and I really enjoy getting dressed up and making sure we are all in our finery ready to have a great day celebrating the start of a new chapter for two people.
Grace is wearing a special new dress – as am I – and we are all colour coordinated! Ross has been asked to do the wedding reading at the ceremony so, when he asked me what he should choose to read, something non-religious, I offered to write a poem. 
It is not the first time I have done that as I wrote and read a poem at my sister's wedding back in 2002. This time around I found it a little trickier as I don't know Jon and Nikki as well as I know my sister so I needed to come up with something suitable. Thankfully, Ross was on hand and between us we have made sure that it works.
The image I am sharing this week is a photo I took in the gardens at Amchara. To me, one of the important things in any relationship is to get along even if you have your differences – I believe two different breeds of butterflies working together in harmony signify that.
The Building Blocks of Marriage
The building blocks of marriage are a very tricky thing
You need to strike a balance on the qualities you bring
Listening to each other is always the best start
On all the simple things as well as matters of the heart
The building blocks of marriage are love, respect and trust
Support and strength and kindness, these are all a must
When two souls work together, it can make a stronger team
Protect the other's heart, support the other's dream
The building blocks of marriage are found in simple action
A kiss, a hug, a compliment can bring great satisfaction
Talk plainly, laugh freely, it's the way to keep life fun
And never let an argument outlive the setting sun
The building blocks of marriage can last throughout a life
Time well spent together, loving husband and loving wife
Setting the right example for others that you love
So they can build with the same blocks as you smile down from above
Victoria Welton and Ross Owen Williams 7th September 2015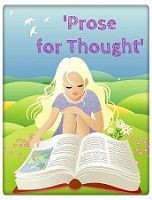 Copyright protected by Digiprove © 2015 Victoria Welton