Welcome everyone to Post Comment Love and Happy Halloween! I hope you all have a great weekend whatever you have planned for the last school holiday weekend before Christmas.
This week's featured post from last week's #PoCoLo belongs to Ideas4Dads (and Mums too) and it features some handy tips on how to survive Halloween. Very topical! Just click on the photo to pop over for a read if you haven't already! 
I am really looking forward to this weekend. Ross and I are staying up in  London to review a hotel and it's restaurant and to spend some time together, whilst Grace is off to London with her cousin to see the poppies. On Sunday we are with my Mum and then, on Monday, Grace has an inset day so we are going to Thorpe Park, using the annual passes we won over on Life As Alice blog. On top of all that, I am off to the World Travel Market next week and then Blogfest is on the horizon. I won't be around much but I will make sure I retweet anyone who tweets me their PoCoLo post and I will do my utmost to get round everyone as always.
I am pleased to say that tomorrow I will be starting a succession of giveaways on my blog. The Big Charity Christmas Giveaway will give everyone the chance to win some great prizes in time for Christmas and one of the options for entry is to give a little bit back to the charity that supports my nephew. That charity is Unique – The Rare Chromosome Disorder Support Group. Take a look at my post about Elliott which may help you understand better. Whether it be 10 pence or £10, every little bit counts.
This week #SoFoLo is a little bit different. It is a mash-up. Basically, you can link whichever social media platform you would like more followers on, be it Facebook, Twitter, Pinterest, Google +, Instagram, YouTube. Whatever you like. Just link your profile. Pop over and share here. Also, don't forget our #SoFoLo community on Google + and our #PoCoLo Facebook group where you can come and post your PoCoLo post for some more shares as well as any of your social media accounts of yours that need more followers.
If you are a regular here then it would be great if you spread the #PoCoLo word. However, if you are new here then welcome! Post Comment Love is all about sharing posts which you have written this week which just haven't got the attention they deserve and, with them all in one place, we can help each other share the comment love. This is one of the easiest links EVER. You don't have a 'special theme' to have to write about, the post can be personal, sponsored, a photo, a review, a competition, your own linky, something you've linked to a linky….WHATEVER you like – it's one you've already written this week! If you want some publicity and attention, then you are in the right place!
Please make sure you go across and comment on at least two other linkers posts. Linkys work if everyone supports each other 🙂 then spread the #PoCoLo about this link up on Twitter. The post you link up has to have been written in the last week. The link will go up every Friday at 6.30am and close on Sunday evening at 8pm. I will make sure I retweet anyone and also try my best to tweet out the posts with the PoCoLo badge being displayed on either the post or the sidebar.
I have a list for the Newbie Showcase running into August 2015. If you would like to be featured then please email me at [email protected] so I can put you on the rota. Remember, your blog needs to be under a year old to feature from the time of sending your email to me.
This week's newbie showcase wrote to me yesterday to tell me that she wasn't writing her blog anymore. I thought this was such a shame. But I didn't want to disrupt the rota, so I thought I would introduce my new travel blog to you, Victoria Visits.
I decided to start writing a travel blog as it is something I have always been interested in. I love the experiences travelling gives you and I enjoy recounting them to people. I have a lot of memories stored away so it is somewhere I can put them as well as writing about all the new experiences I have.
My first post was on 1st October and it lists some of the countries I have already been lucky enough to visit including Madeira, Italy and The Bahamas.  
As well as holidays and destinations, I will also be sharing reviews of restaurants, days out, events and hotels. One of the things I always love is to be able to see a visitors video of the room rather than the one the hotel puts up. I feel I get a far more realistic view that way so I will be making sure that I video anywhere I stay – in fact I have already put up the video about the Levante Beach Resort in Rhodes.
I am really looking forward to seeing where the new blog takes me! 
Not all those who wander are lost."
― J.R.R. Tolkien, The Fellowship of the Ring
Please pay all the lovely linkers below, a visit. Have a great weekend xx
Go Over and Link Your #SoFoLo Social Media Profile HERE.
Link Your PoCoLo Posts here: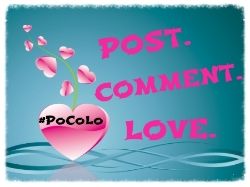 <div align="center"><a href="https://www.vevivos.com/post-comment-love" title="Post Comment Love"><img src=" http://i1322.photobucket.com/albums/u568/ToriWel/4e4a1bf6-07cb-494b-b06e-f959b1fe1311_zps654d027a.jpg" alt="Post Comment Love" style="border:none;" /></a></div>
Copyright protected by Digiprove © 2014-2015 Victoria Welton