Welcome everyone to this week's Post Comment Love. I hope you are all well and had a great week and a big thank you to everyone who linked up last week.
Our week has been as eventful as ever and today Ross and I are off to Berkshire – to Sunningdale – very close to where Grace and I used to live to work and then, tomorrow, we shall be meeting my Mum for lunch. Sunday will likely be a trip to the cinema as an early birthday treat.
I won't mention it again after today (promise!) but don't forget that voting for the BIBs finishes today. My blog is in the category for Social Media and, if you think I am worthy then I would love a vote please. The badge is on my sidebar to the right of this text if you would like to pop across. Also, if you would like to nominate me for the MAD Blog Awards this year then, again, the badge is on my sidebar – just click and go! (although, if you do go then please do come back!).
This week a majority of my posts have been reviews of our weekend away in London. There is our review of The Royal Garden Hotel and our meal at Planet Hollywood. There is an infographic showing some rather crazy lottery purchases and, if you love Sci-Fi from the '70s and '80s, then you will enjoy my poem on Space this week! 
Because of the prominence of Social Media on my blog at the moment, this week's #SoFoLo is all about giving each other some Klout. Simply pop over to the SoFoLo post to find out more – and don't forget to use #SoFoLo when you tweet out your Klout so that people know where you came from. Also, don't forget our #SoFoLo community on Google + and our #PoCoLo Facebook group where you can go and post your PoCoLo post for some more shares as well as any of your social media accounts of yours that need more followers.
If you are a regular here then it would be great if you spread the #PoCoLo word. However, if you are new here then welcome! Post Comment Love is all about sharing posts which you have written this week which just haven't got the attention they deserve and, with them all in one place, we can help each other share the comment love. This is one of the easiest links EVER. You don't have a 'special theme' to have to write about, the post can be personal, sponsored, a photo, a review, a competition, your own linky, something you've linked to a linky….WHATEVER you like – it's one you've already written this week! If you want some publicity and attention, then you are in the right place!
Please make sure you go across and comment on at least two other linkers posts. Linkys work if everyone supports each other
 then spread the #PoCoLo about this link up on Twitter. The post you link up has to have been written in the last week. The link will go up every Friday at 6.30am and close on Sunday evening at 8pm. I will make sure I retweet anyone and also try my best to tweet out the posts with the PoCoLo badge being displayed on either the post or the sidebar.
I have a list for the Newbie Showcase running into February 2016. If you would like to be featured then please email me at [email protected] so I can put you on the rota. Remember, your blog needs to be under a year old to feature from the time of sending your email to me.
I have a little confession to make about this week's newbie showcase. I originally didn't schedule anyone in as it is my birthday weekend and I wanted to give a brand new blogger on the block a present from me. And when I say new, I have found a blogger who literally started her blog at the beginning of the month. Please say hello to Anne.
I'm a happily married 34 year old, full time mum of 3 boys, part-time cake decorator, venturing into business with a good friend. I am also an Ulcerative Colitis fighter. A chronic illness, for more information please see my blog post at http://www.3boyshubbyandme.blogspot.co.uk/
I started blogging recently as life in our house has become quite busy and hectic, with lots of projects on the horizon, the main one being my house extension to turn our house into our home.
I am embarking on a life changing operation to enable me to keep up with the busy lifestyle of my boys, and by blogging im hoping it will help me to take more photos to be able to capture the days out we have to be able to remember and to look back on.
Please come and follow me: 
My Instagram is: threeboyshubbyandme
Thanks for reading
Anne
Please go over and say hi to Anne and please don't forget the rest of the lovely linkers below. Have a great weekend everyone xx
Go Over and share your URLs for shares with #SoFoLo HERE.
Link Your PoCoLo Posts here: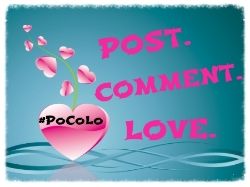 <div align="center"><a href="https://www.vevivos.com/post-comment-love" title="Post Comment Love"><img src=" http://i1322.photobucket.com/albums/u568/ToriWel/4e4a1bf6-07cb-494b-b06e-f959b1fe1311_zps654d027a.jpg" alt="Post Comment Love" style="border:none;" /></a></div>
Copyright protected by Digiprove © 2015-2016 Victoria Welton