Space. That is this week's photography and poetry prompt, and it can be interpreted in many different ways. A continuous area or expanse which is free, available, or unoccupied. The dimensions of height, depth, and width within which all things exist and move. Or, the one I have chosen to write about, the physical universe beyond the earth's atmosphere.
Ever since I was a little girl, space has held a massive fascination for me. It was no wonder with programmes such as Doctor Who, Blake's Seven and Buck Rogers. I even remember watching 'Alien' at a very early age and being both fascinated and petrified in equal measures! ET was a big part of my childhood and was the only Panini sticker book that I collected in full!
Grace is now fascinated by Space. She believes that she can look out of the window and see the ones she loved, who are no longer with us, appear in the sky as stars. The three of us recently made a film together and she drew another picture to send over to the writer in order to update the final edit recently – and it is that image that I am sharing with you this week. Look out for the man in the moon (sleeping!) and the guy on earth with the telescope (and yes, it IS a telescope!).
I have written what I consider to be one of my favourite poems to date. I hope you enjoy it too.
Space
Fascinated by it and what it holds
You can blame The Doctor for that
Throughout my childhood it unfolds
Spacedust was my favourite snack
Star Wars soon was all the rage
As he played Luke to my Leia
In the playground it was all space-age
As we'd renact him trying to free her
Space 1999 on a Saturday morning
And who could forget Logans Run?
The Tomorrow People came with a warning
Mork and Mindy was lots of fun
War of the Worlds soundtrack – I was in awe
It was played at school when I was eight
I stayed in at lunchtimes and listened to more
Richard Burton was first rate
Buck Rogers was one I wanted to see
With his sidekick robot Twiki
Wilma Deering was who I wanted to be
Twiki's memorable saying? 'beedy-beedy'!
Blake Seven meant staying up after bedtime
My parents could see that I was a fan
A space ship of people who had committed a crime
But the scariest one was Servalan
Star Trek – I watched it now and again
With a log kept by Captain Kirk
He came in peace and ordered his men
to shoot to kill – what a burke!
Back to the Doctor and his TARDIS
All of those trusty sidekicks
It's still a show that I can't miss
Watching the daleks get up to their tricks
It's no wonder it is fascinating to me
And now it's magical for Grace
We both look up and we can see
The fascination, the wonder of Space
Victoria Welton 13th May 2015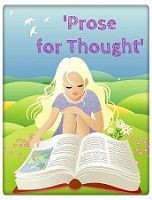 I am thrilled to say that Verily Victoria Vocalises has been shortlisted for the Social Media Category at the Brilliance in Blogging Awards. I would love your vote to help me to get to the finals and to be in with a chance of winning. Simply pop over to http://bit.ly/1GBA8iG
Copyright protected by Digiprove © 2015 Victoria Welton