Welcome everyone to this week's Post Comment Love. The month seems to be going by far too quickly and it is going to be Halloween and half term before we know it! 
We have had a fairly standard week in the W household. We completed our first Park Run down in Weymouth last weekend whilst we were staying with Ross' parents and managed it in less than 45 minutes. We have decided that we all liked it so much that we are going to do another one closer to us this weekend in Yeovil. We are hoping to beat our time but it does depend on the terrain at this one!
This week I have shared a couple of my poems in celebration of National Poetry Day yesterday – plus my personal twitter feed was full of my poems from this year. The first poem is called 'Sweet' and the other is 'After'. I have also written my 5 top tips to help children sleep when they are away from home as well as another giveaway from DickiesStores.
In case you missed it last week, I have decided to change things slightly in the way I do Social Follow Love. It is now going to run the first and third week of the month. For the first two weeks it is for you to link any of your social media accounts. For the second two, it will be for giving out some Klout to other linkers. So, if there are any social media accounts where you would like more followers then please nip over and link up – you can link as many as you like. If you do link, then, over the course of the two weeks, I shall share your social media account on our Facebook group – some of the links are already over there. Also, don't forget our #SoFoLo community on Google + and our #PoCoLo Facebook group where you can go and post your PoCoLo post for some more shares as well as any of your social media accounts of yours that need more followers.
If you are a regular here then it would be great if you spread the #PoCoLo word. However, if you are new here then welcome! Post Comment Love is all about sharing posts which you have written this week which just haven't got the attention they deserve and, with them all in one place, we can help each other share the comment love. This is one of the easiest links EVER. You don't have a 'special theme' to have to write about, the post can be personal, sponsored, a photo, a review, a competition, your own linky, something you've linked to a linky….WHATEVER you like – it's one you've already written this week! If you want some publicity and attention, then you are in the right place!
Please make sure you go across and comment on at least two other linkers posts. Linkys work if everyone supports each other, then, spread the #PoCoLo about this link up on Twitter. The post you link up has to have been written in the last week. The link will go up every Friday at 6.30am and close on Sunday evening at 8pm. I will make sure I retweet anyone and also try my best to tweet out the posts with the PoCoLo badge being displayed on either the post or the sidebar.
I have a list for the Newbie Showcase running into April 2016. If you would like to be featured then please email me at [email protected] so I can put you on the rota. Remember, your blog needs to be under a year old to feature from the time of sending your email to me. 
This week's newbie showcase is from Pam at Rookie Parenting, one of the lovely bloggers from across the big pond. 
Hi, I'm Pam, and I blog about scientific parenting.
Parenting is challenging and there is never a shortage of parenting advice from other parents and non-parents alike. When my daughter was first born almost four years ago, I followed some seemingly legitimate parenting advice but was heartbroken when I saw her suffer from it. So I set out to study child development and evidence-based parenting practice.
I first started blogging to organize the large amount of information I found. When more people became interested but said their lack of time prevented them from doing similar in-depth research, I knew I could help.
In my blog, you can find scientific data and information on parenting written in plain English. My goal is to offer straightforward and jargon-free information that helps parents make their own decisions based on facts. Topics range from tips on handling toddler tantrums to educational activities that enhance child development.
Here are some of my favourite posts.
I Love Toddler Temper Tantrums And You Should Too
Play And Learn – Kids' Most Important Job
Can You Balance A Craft Stick On A Chopstick? Science Experiment
I am a fulltime mom currently living with my daughter, husband and toy poodle in the San Francisco Bay Area. I also recently authored the best-selling parenting book Turning Tantrums Into Triumphs.
Stop by my blog, Facebook page or Twitter to say hi. I look forward to connecting!
https://www.facebook.com/rookieparenting
https://twitter.com/arookieparent
Pam
RookieParenting – The Science Of Parenting
Please pop over and say hi to Pam and don't forget all the fab linkers below. I hope you all have a wonderful weekend xx
Go Over and share your Social Media Accounts with #SoFoLo HERE.
Link Your PoCoLo Posts here: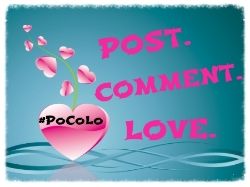 <div align="center"><a href="https://www.vevivos.com/post-comment-love" title="Post Comment Love"><img src=" http://i1322.photobucket.com/albums/u568/ToriWel/4e4a1bf6-07cb-494b-b06e-f959b1fe1311_zps654d027a.jpg" alt="Post Comment Love" style="border:none;" /></a></div>
Copyright protected by Digiprove © 2015-2017 Victoria Welton