This Thursday, 8th October, is National Poetry Day. A day that coincides with my poetry linky, Prose for Thought. The theme is 'light' and I have already written a poem with this as the title earlier in the year.
All day Thursday, over on Twitter, I shall be sharing the poems I have written so far this year all day – 39 of them in total including today's. Plus, I shall be writing at least two poems this week – partly because of National Poetry Day and partly to catch up on all my prompts.
In case you hadn't already gathered, the prompt is sweet. The image is one of the first I took with my DSLR last Christmas. It is of a giant Lindor sweet that Ross gave me. The sweet itself isn't that big (unfortunately) but it was full of the smaller version!
The poem I have written is about some of my favourite sweets from when I was a child together with the memories they invoke. For a spoken version of the poem, click on the media file below the written version.
Sweet
Retro are the sweets for me
They remind me of my youth, you see
Toffos, Dipdabs, Sherbet Fountain
With the prices then you could buy a mountain!
Rhubard and Custard and Bubbalicious
Not exactly healthy, nor nutricious
Chewits, Fruit Salads, Flying Saucers
All from the sweet shop on the corner
Mr Humwicks, Terrys and Fourbouys
These were the shops where kids made noise
You could buy a quarter or you could buy a half
Much cheaper then, now they are having a laugh!
Curly Wurly, Chocolate Limes and Black Jacks
But I wasn't so keen on the Caramacs
Spangles were fizzy, like orangeade
Barley Sugars, well, they were mum's first aid!
So many of them are still around today
Mars Bars, Rolos, Milky Ways
But the memories of old, well they are all good
The sweets that remind me of my childhood
Victoria Welton 6th October 2015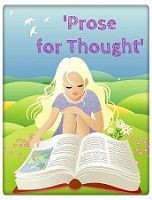 Copyright protected by Digiprove © 2015 Victoria Welton