Welcome one and all to this week's Post Comment Love. How are you all? I have to say a big thank you to Cathie over at kidGLloves for looking after you all last week. She did a fantastic job – and we had the most amazing time in London (reviews still to come!).
This weekend is far quieter – thank goodness! Because after that it all gets a bit busy again.
If you haven"t already seen, my blog has made the shortlist in the Social Media category for the Brilliance in Blogging awards with BritMums. I would love to make the finals so, if you believe I am worthy, I would love your vote please. All you need to do is click on the badge below to go over to the easy-to-use voting form.
In the same vein, the MAD Blog Awards voting is now live and if you consider my blog worthy of a vote then please hop on over and choose a category for me. There is no 'Most Innovative' this year so I think 'Best Writer' probably suits me. Oh, and of course, there is kidGLloves for Best Family Fun and Best Schooldays blogs.
I have written a few posts this week including one on the decline of our English language and why 'F' should not replace'TH', a poem called 'Mother' and an interview with Carol Decker from T'Pau.
This week's #SoFoLo is for you to share one of your posts via a social media platform of your choice. We have been doing a similar thing in the Facebook Group every day this week and it seems to be working really well. Simply pop over to the SoFoLo post to find out more – and don't forget to use #SoFoLo so they know where you came from. Also, don't forget our #SoFoLo community on Google + and our #PoCoLo Facebook group where you can come and post your PoCoLo post for some more shares as well as any of your social media accounts of yours that need more followers.
If you are a regular here then it would be great if you spread the #PoCoLo word. However, if you are new here then welcome! Post Comment Love is all about sharing posts which you have written this week which just haven't got the attention they deserve and, with them all in one place, we can help each other share the comment love. This is one of the easiest links EVER. You don't have a 'special theme' to have to write about, the post can be personal, sponsored, a photo, a review, a competition, your own linky, something you've linked to a linky….WHATEVER you like – it's one you've already written this week! If you want some publicity and attention, then you are in the right place!
Please make sure you go across and comment on at least two other linkers posts. Linkys work if everyone supports each other
 then spread the #PoCoLo about this link up on Twitter. The post you link up has to have been written in the last week. The link will go up every Friday at 6.30am and close on Sunday evening at 8pm. I will make sure I retweet anyone and also try my best to tweet out the posts with the PoCoLo badge being displayed on either the post or the sidebar.
I have a list for the Newbie Showcase running into February 2016. If you would like to be featured then please email me at [email protected] so I can put you on the rota. Remember, your blog needs to be under a year old to feature from the time of sending your email to me.
This week's newbie showcase is Jenny and I would like to thank her for stepping up to the mark when the original person was a no-show! Please welcome her. 
Heya!  I'm Jenny from Monkey and Mouse, thank you very much Victoria for including me in your Newbie Showcase.
I'm mummy to O (3.5 years old) and A (16 months old) and wife to my fantastic husband.  My husband is great, he doesn't seem to mind (too much!) that blogging has been taking over my life for the last few months. I think he's beginning to get used to all my 'ideas' and hobbies now, I like to keep quite busy.
I've been writing a blog on and off for years now, on several different blogs. Originally I was a craft blogger, but when I had my first son that fell by the wayside and I stopped blogging for a while, I tried again later, but the lack of sleep and a toddler during the day I just couldn't manage. Fortunately my second son was a much better sleeper (not a sleep-through-the-nighter, but better than his brother!!) and in February 2015 I decided to start a new blog documenting our lives, day trips, holidays, crafts and some rants too.
I've only been blogging on Monkey and Mouse for 3 months, but in that time I have managed to cover a range of topics. Mainly crafts and sensory play such as this painting with cars activity http://monkeyandmouse.co.uk/painting-by-cars/ and parenting issues like 5 Tips for Baby Vaccinations http://monkeyandmouse.co.uk/category/parenting/, but I hope to include more of my own crafts, DIY and interior decorating projects in the near future.  I have so many posts planned to write, I just need to find the time to write them!
Although I've only been blogging a short amount of time I am amazed at how lovely and supportive all the bloggers I've met in this community. Several of them going out of their way to help me whenever I need it.
I'm looking forward to seeing what opportunities the rest of my first year of blogging brings and to meeting more lovely people in the process.
Please go over and say hi to Jenny and please don't forget the rest of the lovely linkers below. Have a great weekend everyone xx
Go Over and share your URLs for shares with #SoFoLo HERE.
Link Your PoCoLo Posts here: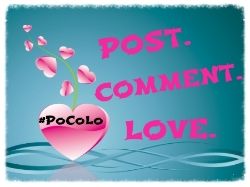 <div align="center"><a href="https://www.vevivos.com/post-comment-love" title="Post Comment Love"><img src=" http://i1322.photobucket.com/albums/u568/ToriWel/4e4a1bf6-07cb-494b-b06e-f959b1fe1311_zps654d027a.jpg" alt="Post Comment Love" style="border:none;" /></a></div>
Copyright protected by Digiprove © 2015 Victoria Welton