Welcome everyone to this week's Post Comment Love – and can you believe that we are just about to step into the month of August! Let's hope this weather sorts it's life out, eh?! 
I am VERY behind on all my commenting and also with the SoFoLo linkers so I am extremely sorry to every one I owe a visit to. In fact, this weekend is a bit of a blessing for me in the fact that I will have plenty of time to catch up with you all. I have no Grace at the moment 🙁 so it means I can dedicate a lot more time and attention to everyone.  As a result of this, I have decided not to run the #SoFoLo linky this week – seeing as I am behind on that as well.
From next week, for 3 weeks, I will have some guest hosts looking after Post Comment Love whilst I am away enjoying a holiday! The lovely people who will be hosting are as follows:
Rebecca at All About U Blog from 7th August to 9th August.
Emily at Emily Davis Writes from 14th to 16th August 
KT Reekie from The Mad House of Cats and Babies from 21st to 23rd August
A big thank you in advance to all three of them for taking care of business for me.  #SoFoLo won't run during this time and will return on 28th August when PoCoLo is back with me BUT the newbie showcasers will be featured so please be sure to support them.
This week I have shared a review of a LEGO Elves set (including video from Grace!), some great UK holidays even if it's raining, a summer take on a Christmas recipe, some fashionable kids coats from Melijoe and a photography and poetry prompt called 'Sunset'.
If you are a regular here then it would be great if you spread the #PoCoLo word. However, if you are new here then welcome! Post Comment Love is all about sharing posts which you have written this week which just haven't got the attention they deserve and, with them all in one place, we can help each other share the comment love. This is one of the easiest links EVER. You don't have a 'special theme' to have to write about, the post can be personal, sponsored, a photo, a review, a competition, your own linky, something you've linked to a linky….WHATEVER you like – it's one you've already written this week! If you want some publicity and attention, then you are in the right place!
Please make sure you go across and comment on at least two other linkers posts. Linkys work if everyone supports each other! Then spread the #PoCoLo about this link up on Twitter. The post you link up has to have been written in the last week. The link will go up every Friday at 6.30am and close on Sunday evening at 8pm.
I have a list for the Newbie Showcase running into March 2016. If you would like to be featured then please email me at [email protected] so I can put you on the rota. Remember, your blog needs to be under a year old to feature from the time of sending your email to me. Apologies as I am also behind on this but I will be back to you over the next week.
So, now the housekeeping is all out of the way, this week's newbie showcase is someone who has been a regular #PoCoLo linker for a while now. Please say hi to Shannon from the cleverly named blog, Shannonagains.
Hi everyone! I'm Shannon and I blog over at Shannonagains.com. I'm originally from California, but live in south-east London (north Kent, depending on who you ask) with my Scottish husband "Daddy-man" and 18-month-old daughter "Pumpkin".
I started my blog last year, not long after Pumpkin was born. I wanted a place to document her life and my journey through motherhood. It also gives me a place to write for myself – since my "normal" job is being a copywriter, I spend my days writing for other people, so it's nice to talk about things I'm actually interested in on my blog.
The topics I write about are pretty varied – there's a weekly post about what we've been up to as a family, but I also talk about food and weight loss, travelling, photography, writing and parenting issues. I'm also looking forward to blogging about craft projects when Pumpkin gets a bit older – but right now, she'd prefer to cover herself in glue than the craft project.
Here are a few of my favourite recent posts:
This activity kit for toddlers got us through a long-haul flight in May.
I wrote about my experience baby-wearing as a plus-size mum.
This one was about our trip to the Monterey Bay Aquarium in California.
I also co-host My Week at a Glance. It's a weekly linky that starts on Sunday.
Thanks for reading – I'd love to "meet" you on social media. You can follow me at:
Twitter: http://www.twitter.com/shannonagain58
Facebook: http://www.facebook.com/shannonagain58
Instagram: http://www.instagram.com/shannonagain58/
Pinterest: http://uk.pinterest.com/shannonagains/
G+: http://www.google.com/+Shannonagains
So please go and say hi to Shannon and all the lovely linkers below. Have a great August and I will see you in a few weeks xx
Link Your PoCoLo Posts here: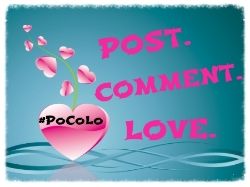 <div align="center"><a href="https://www.vevivos.com/post-comment-love" title="Post Comment Love"><img src=" http://i1322.photobucket.com/albums/u568/ToriWel/4e4a1bf6-07cb-494b-b06e-f959b1fe1311_zps654d027a.jpg" alt="Post Comment Love" style="border:none;" /></a></div>
Copyright protected by Digiprove © 2015 Victoria Welton