Happy Birthday to you, Happy Birthday to you, Happy Birthday dear PoCoLo, Happy Birthday to you!! Have some virtual cake everyone! Yep, that's right, this Sunday sees Post Comment Love's SECOND birthday! Wow, where on earth did that go?! Plus, to make it even better – it's the first day of Spring 🙂
Sorry for my absence last week – and thank you to all of your for your support especially to the people who left some wonderful comments and to Stupid Girl and co for love-bombing me on Twitter! So thoughtful 🙂
To celebrate today, I thought I would share a couple of things with you. Firstly, a few facts and figures:
PoCoLo started on 22nd March 2013. In it's first week it had 57 linkers (unfortunately my subscription has expired with the original linky host so I can't see who – booo!)
I have a Twitter list of 377 bloggers! This means that at least that many different blogs have linked up in the time that PoCoLo has been running
The Newbie Showcase feature started on 5th April 2013
The first newbie showcase was Nell from Pigeon Pair and Me
Today see's the 98th Newbie Showcase – almost 100 new bloggers featured!
The second part is to share some kindness with you as a thank you. I have created a survey about PoCoLo and your feelings on it. It is a short one with just 10 sections and, if you leave your name, blog and address, then I will send you a token gift at some point this year to say thank you for linking.
Create your free online surveys with SurveyMonkey , the world's leading questionnaire tool.
Finally – and I am sorry for mentioning it (don't ask, don't get – right?!), I would love some nominations in the Brilliance in Blogging Awards please. I have made the shortlists twice and the finals once – this year I would love to go that one step further! Here are the categories that I believe I might fit into:
This week's #SoFoLo is one I haven't featured before – StumbleUpon. To find out a bit more about it then pop over to find to my post and see what you need to do. Also, don't forget our #SoFoLo community on Google + and our #PoCoLo Facebook group where you can come and post your PoCoLo post for some more shares as well as any of your social media accounts of yours that need more followers.
If you are a regular here then it would be great if you spread the #PoCoLo word. However, if you are new here then welcome! Post Comment Love is all about sharing posts which you have written this week which just haven't got the attention they deserve and, with them all in one place, we can help each other share the comment love. This is one of the easiest links EVER. You don't have a 'special theme' to have to write about, the post can be personal, sponsored, a photo, a review, a competition, your own linky, something you've linked to a linky….WHATEVER you like – it's one you've already written this week! If you want some publicity and attention, then you are in the right place!
Please make sure you go across and comment on at least two other linkers posts. Linkys work if everyone supports each other
 then spread the #PoCoLo about this link up on Twitter. The post you link up has to have been written in the last week. The link will go up every Friday at 6.30am and close on Sunday evening at 8pm. I will make sure I retweet anyone and also try my best to tweet out the posts with the PoCoLo badge being displayed on either the post or the sidebar.
I have a list for the Newbie Showcase running into December 2015. If you would like to be featured then please email me at [email protected] so I can put you on the rota. Remember, your blog needs to be under a year old to feature from the time of sending your email to me. Sorry if I haven't got back to you yet – I am way behind but I will get round to you, I promise!
This week's newbie showcase is one of those bloggers who quietly beavers away and I often see her sharing her posts in the Facebook groups. She deserves a little more attention. Please welcome Victoria (great name!) from My Little L Blog.
Hello, I'm Victoria and I blog at My Little L.
Firstly, I would like to say a huge thank you to Vicky for organising newbie showcase and featuring me this week.
Few years ago I have emigrated from Russia to a small town in Worcestershire, where I have met my husband. Since then we moved in together, got married and had our little baby girl L. 
I decided to start blogging in August 2013 as I wanted to share my parent-to-be/mummy experience with others and wanted to have an "online baby keepsake book". I blog mainly about L and a little bit of me.
Few people in the past asked me what does L stand for?
I'm a big fan of Jamiroquai and his song "Little L", if you know the song L stands for love. As our baby L is a result of our love I thought that it would be great to merge love and first letter of L's name and this is how My Little L was born.
Please pay Victoria and all the lovely linkers below, a visit. Have a great weekend xx
Link Your PoCoLo Posts here: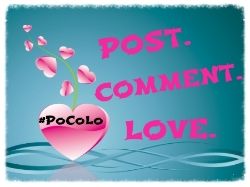 <div align="center"><a href="https://www.vevivos.com/post-comment-love" title="Post Comment Love"><img src=" http://i1322.photobucket.com/albums/u568/ToriWel/4e4a1bf6-07cb-494b-b06e-f959b1fe1311_zps654d027a.jpg" alt="Post Comment Love" style="border:none;" /></a></div>
Copyright protected by Digiprove © 2015 Victoria Welton