Welcome to Friday and Post Comment Love day. Thank you so much to everyone who linked up last week. I am pleased to say that I got round to you all once again.
Firstly, I would like to wish the finalists of tonight's MAD Blog Awards the very best of luck. This year I shall be watching the events from my computer screen and am really looking forward to seeing the photos.
This weekend is a fairly standard one for us. Ross has a couple of gigs, I am working and Grace is off to a friend's party tomorrow.
On Tuesday I wrote a post reflecting on my 3 years of blogging. I am truly grateful for all of the experiences that my blog has given me. I did say at the time that I will be sharing 3 things that are going to change. I have to say that they are not great, big changes but then, I don't think they need to be! They will follow soon…when I am ready! 
I have also shared my latest poem 'Hide and Seek', a recipe for chocolate topped doughnut cakes and a checklist for childproofing your home. There is, of course, my other linky as well – Prose for Thought.
This week's #SoFoLo is for Klout. They have recently added YouTube to their metrics, so don't forget to link up your account over there. To link up your Klout account, simply pop over to the SoFoLo post to find out more. Also, don't forget our #SoFoLo community on Google + and our #PoCoLo Facebook group where you can go and post your PoCoLo post for some more shares as well as any of your social media accounts of yours that need more followers.
If you are a regular here then it would be great if you spread the #PoCoLo word. However, if you are new here then welcome! Post Comment Love is all about sharing posts which you have written this week which just haven't got the attention they deserve and, with them all in one place, we can help each other share the comment love. This is one of the easiest links EVER. You don't have a 'special theme' to have to write about, the post can be personal, sponsored, a photo, a review, a competition, your own linky, something you've linked to a linky….WHATEVER you like – it's one you've already written this week! If you want some publicity and attention, then you are in the right place!
Please make sure you go across and comment on at least two other linkers posts. Linkys work if everyone supports each other, then, spread the #PoCoLo about this link up on Twitter. The post you link up has to have been written in the last week. The link will go up every Friday at 6.30am and close on Sunday evening at 8pm. I will make sure I retweet anyone and also try my best to tweet out the posts with the PoCoLo badge being displayed on either the post or the sidebar.
I have a list for the Newbie Showcase running into April 2016. If you would like to be featured then please email me at [email protected]com so I can put you on the rota. Remember, your blog needs to be under a year old to feature from the time of sending your email to me. I am pleased to say that I am now up to date with all my requests! 
This week, please welcome Silly Mummy from R is for Hoppit to the newbie showcase. She has only been blogging 5 months and I always find her posts really funny! 
Hello. I blog as Silly Mummy at R is for Hoppit. I am a SAHM to two little girls. The Toddler is nearly two and a half. The Baby is now thirteen months, so really no longer a Baby. They need to be renamed. I have plans to get around to this very soon, but am a little indecisive. 
The basic theme of the blog is language development. This mostly means humorous stories about things the girls have said, and their social interactions. To date, it has largely been things The Toddler says. The Baby's vocabulary is still mostly 'duck'. She has a lot to say on the subject of ducks, mind. Lately I have started to do occasional serious posts on more general parenting issues, and of course comparative studies on The Muppet Babies and Sarah and Duck. What, you didn't realise there was a need for such research? Well, I can assure you there definitely isn't. I do a weekly feature of the ten funniest things The Toddler said the previous week.
I started the blog five months ago, and had never blogged before. I began blogging mostly because I wanted to build up a writing portfolio and experience of producing web content. I picked the theme because The Toddler is really very funny, and language development in children is fascinating. It's a bit of a niche, which is maybe a little limiting, but I like to think it is a bit different. And I have branched out on occasion over the months. The blog's name, along with my blogging name, came from things The Toddler said, and are explained in my first post and 'About Me' page, respectively. I love that the blog has ended up being a record of the funny things the girls have said and done. I am essentially coasting on the comedy genius of my two year old here – but what's she going to do about it?
I have a lot of fun writing my blog, and would love you to drop by. You'll find us searching for imaginary jam, dressing as bumble bees, singing at doctors and assigning Daddy to the naughty step. The dress code is someone else's pyjama trousers on your arms and nothing on the bottom, but we don't enforce it strictly.
A few of my favourite posts are:
You can find me in these places:
So please go and support Julia and all the lovely bloggers who have linked up below. Have a great weekend everyone xx
Go Over and share your Klout account with #SoFoLo HERE.
Link Your PoCoLo Posts here: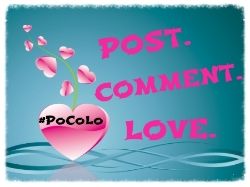 <div align="center"><a href="https://www.vevivos.com/post-comment-love" title="Post Comment Love"><img src=" http://i1322.photobucket.com/albums/u568/ToriWel/4e4a1bf6-07cb-494b-b06e-f959b1fe1311_zps654d027a.jpg" alt="Post Comment Love" style="border:none;" /></a></div>
Copyright protected by Digiprove © 2015 Victoria Welton