It's funny how sometimes things happen for a reason, isn't it? I left my poetry and photography prompts last week to share the reading I wrote for a friends wedding – which was extremely well-received – and also because I couldn't really think of anything for the prompt 'imagination'.
Last night Ross and I were watching Greys Anatomy and there was a presentation from Dr Amelia Shepherd about a tumour that she was due to operate on. She called the part of the brain that helps feed your imagination 'the dreambox'. This then helped me come up with an idea for my poem, below.
The image is of a light trail over a wine glass. I have been practising this as part of a monthly assignment set by Practical Photography magazine. It was taken in a dark room with the camera mounted on a tripod. The camera was on manual mode with the settings ISO100, 30″ shutter speed, aperture of F16 and set on manual focus. I used the timer setting of 10 seconds for minimal camera shake. I used a mini magnalite torch with the bulb exposed to draw round the subject. The only edit was cropping the image. To me, the light trail looks like a spooky potion spilling over the top – just in time for Halloween! For a recording of me reading 'Imagination', please click on the link below the written version of the poem.
Imagination
The dreambox that's inside my brain
It helps me see things time and again
Not things in the sense of real
Nor the ones you touch or feel
The things I mean, they aren't quite there
They are my castles in the air
The things that appear to me in my dreams
When something isn't always what it seems
The presence of someone watching over
The fairies that dance among the clover
The clouds that form pictures in the sky
The things you see in your minds' eye
A daydream or a flight of fancy
Pretending to hunt zombies as a vigilante
Walking on pavements, don't step on a crack!
The bear might be there behind your back
So you see all this visualisation
By some, may be called an hallucination
But I can't stand all that speculation
To me, it is my imagination
Victoria Welton 21st October 2015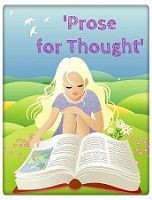 Copyright protected by Digiprove © 2015 Victoria Welton