This week I am launching a summer-long series of posts called 'A Summer of Love'. I am pleased to say that I have a few people who have offered to write guest posts so if you would like to join them then please email me – vickywelton@hotmail.com – and I would love to have you on board. The love can be about your partner, husband or wife, the love for your children, your pets, your hobbies and, well, anything really! It can be a straight piece of writing or in poetry or photograph form. There is no specific day or time that I will be posting them as I would like to make it easy over the holidays but the series will run from now until the beginning of September. I will include links to your blog and social media channels.
I am going to kick things off with a poem I have written about the summer holidays ahead with Grace, now aged 9 and probably, soon to be, off with her friends rather than spending time with me! I am want to make the most of them though!
A Summer of Love
Long, carefree days ahead of us
I can't wait for what's to come
Looking forward to our lazy days
I hope there's lots of sun
This summer I will make the most
Of what I have with you
I have a feeling time is ticking
And what's left is very few
You still want to spend time with me
For shopping and for fun
But soon there will come the days
You won't be seen dead with mum!
We have lots of plans and I can't wait
To share them all with you
Your love for nature and photography
Is something we both can do
Brownie Camp, a nature reserve
A holiday to Polperro
Ice creams, baking and uniform shopping
We've so many places to go!
So my darling let's make hay
While the sun still shines
And maybe, in the years to come
We can still do this sometimes
Victoria Welton 20th July 2016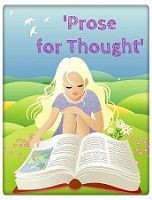 Copyright protected by Digiprove © 2016 Victoria Welton