Welcome to this week's Prose for Thought..and then there was one. In case you hadn't heard the news, from January 2016 Post Comment Love (my other linky) will no longer be hosted by me. Which means I can put more time into concentrating on my poetry, photography and general creativity.
Whilst I am very sad, I am also extremely excited. One of the things that I did mention in my Blogfest reflections on Monday was that I would be compiling a book of wedding readings. All my own work. I was so pleased with how well the one that Ross read in October was received and this gave me an idea. In fact, at the conference at the weekend, a wedding dress designer approached me and gave me her card expressing her interest. I am so excited about putting this together. Other books will follow with readings for funerals and naming ceremonies and christenings. I am told that it is so hard to find a good non-religious reading and with all the civil ceremonies around these days I think it will be a good thing. I really hope to build up lots of support. I am also going to be offering a bespoke writing service too.
I need to say a big thank you to all the linkers last week. It was the most I have seen on Prose for Thought for a while and I managed to comment on them all and tweet them all out last night – there was some brilliant poetry in that lot so thank you for sharing it with me.
My prompt this week is the word 'laughter'. I suddenly woke up at 6am yesterday morning with this in my head and I really enjoyed writing it.
I still behind the prompt stakes and I am hoping to do a bit more poetry writing in the next few days. The following are the prompts that I need to be writing as we are now at week 48:
treat
warmth
thankful
comfort
merry
I am really looking forward to reading everyone's posts.
So, if you have written a piece of original poetry, prose or fiction and would like to share it, then please link up below. I will try my utmost to read every single linker. I would also love it if you share your poem and use the #Prose4T hashtag. If you include me in your tweet – @vicwelton – I will ensure that I retweet you. Please also use my badge below if you are linking up – it helps to publicise the linky to others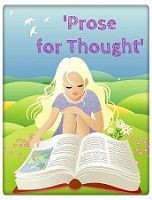 <div align="center"><a href="https://www.vevivos.com/prose-for-thought" title="Prose for Thought"><img src=" http://i1322.photobucket.com/albums/u568/ToriWel/Proseimagesmall_zps637beb08.jpg " alt="Prose for Thought" style="border:none;" /></a></div>
Copyright protected by Digiprove © 2015 Victoria Welton