Welcome back to the home of Post Comment Love! I missed you all. I hope you have had a great summer (break-wise I mean, I can't really say that about the weather!). Firstly, I have to say a big thank you to Rebecca, Emily and Karen for taking such good care of #PoCoLo for me – you did a great job ladies.
To say that things have been a bit of a 'trial' for me of late is an understatement. What with the legal stuff, an 'interesting' holiday and then, this week, my computer giving up the ghost (thanks to Ross for letting me use his PC!) it has put me to the test somewhat. But, hey, it makes life interesting! I am looking forward to some sort of semblance of normality as Grace returns to school next week.
Over the past week or so I have written about our horror story that is Pontins (!), my latest poetry and photography prompt 'home', 10 quick tips on how to save money on school supplies, plus I have two great giveaways which I have added to the link.
This weekend, Ross is playing a couple of gigs so I will be venturing out to watch at least one of them. Then I shall be looking forward to making the most of the last few days of the summer holidays with Grace before she starts Year 4 (just where does the time go?).
This week's #SoFoLo is for Instagram follows and/or likes. Simply pop over to the SoFoLo post to find out more. Also, don't forget our #SoFoLo community on Google + and our #PoCoLo Facebook group where you can go and post your PoCoLo post for some more shares as well as any of your social media accounts of yours that need more followers.
If you are a regular here then it would be great if you spread the #PoCoLo word. However, if you are new here then welcome! Post Comment Love is all about sharing posts which you have written this week which just haven't got the attention they deserve and, with them all in one place, we can help each other share the comment love. This is one of the easiest links EVER. You don't have a 'special theme' to have to write about, the post can be personal, sponsored, a photo, a review, a competition, your own linky, something you've linked to a linky….WHATEVER you like – it's one you've already written this week! If you want some publicity and attention, then you are in the right place!
Please make sure you go across and comment on at least two other linkers posts. Linkys work if everyone supports each other
then spread the #PoCoLo about this link up on Twitter. The post you link up has to have been written in the last week. The link will go up every Friday at 6.30am and close on Sunday evening at 8pm. I will make sure I retweet anyone and also try my best to tweet out the posts with the PoCoLo badge being displayed on either the post or the sidebar.
I have a list for the Newbie Showcase running into March 2016. If you would like to be featured then please email me at vickywelton@hotmail.com so I can put you on the rota. Remember, your blog needs to be under a year old to feature from the time of sending your email to me.If you have emailed me and not heard from me by then, please do send me another message or tweet me! Apologies to those who I owe an email to!
This week's newbie showcase is no stranger to #PoCoLo, having hosted it for me a few weeks back. Please say hello to Ali from Mum in a Nutshell.
Hey! I'm Ali, Mum in a Nutshell. Mum of 3 boys and master of none. I've been blogging for nearly a year now so feel a little bit of a fraud popping up on this week's Newbie Showcase, but hey ho, here I am.
I began blogging after the birth of my third son to help focus my mind from the new mum fog, keep me off eBay and cure a serious ante natal Candy Crush addiction. Not realising just what I was about to embark on, it gave me the confidence to hand my notice in and start a new business. Originally I set out to share my professional knowledge of child development, positive parenting, bonding and sensory play but Mum in a Nutshell soon involved into a full shebang family lifestyle blog. Being the mum of a toddler, tween and teenager means there's a whole heap things to write about, from how bloomin' frustrating it is parenting a teenager to trying to keep up with a lively and destructive toddler. Oh and being a Devon gal, I share lots of photos of the beach which I make no apologies for, it's hard not to appreciate the coast after spending a childhood 'up north'.
Annnnnnyway, I'm all over social media like rash so if you want to follow me that'd be swell, I do try and follow back but if I don't give me a nudge, I may have just mistaking avoided you thinking you're a dodgy whatnot or trying to enrol me on a wrap, fat busting thingumajig.
Twitter http://www.twitter.com/East_Devon_mum
Facebook https://www.Facebook.com/muminanutshell1
Instagram https://www.instagram.com/mum_in_a_nutshell
Pinterest https://www.pinterest.com/MumInaNutshell/
Google + https://plus.google.com/u/0/+Alichapman/
So please go and support Ali and all the lovely bloggers who have linked up below. Have a great weekend everyone xx
Go Over and share your Instagram account with #SoFoLo HERE.
Link Your PoCoLo Posts here: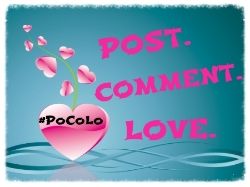 <div align="center"><a href="https://www.vevivos.com/post-comment-love" title="Post Comment Love"><img src=" http://i1322.photobucket.com/albums/u568/ToriWel/4e4a1bf6-07cb-494b-b06e-f959b1fe1311_zps654d027a.jpg" alt="Post Comment Love" style="border:none;" /></a></div>
Copyright protected by Digiprove © 2015-2016 Victoria Welton