I am back! Well, back to writing my poetry and continuing with the photography and poetry challenge. I am around 4 behind so please bear with me as I catch up.
This prompt is called 'home'. I have to admit to finding this, and the next 3 prompts, quite tricky so I promise that I will do my best.
The photograph I am sharing is one of Grace and I just after she got home from a week away. We spent the whole afternoon cuddling on the sofa and watching the film 'Epic'. And it really was that to have her back.
The poem I have written shares a film and tv take on being at, or getting, home. I was surprised to see how many writers have based their writing on this simple fact. How many can you spot?
Home
Kevin knew that he was there,
despite him being alone
Scarlett wanted to save Tara,
her old plantation home
Chance, Sassy and Shadow,
well they went on quite a trek
And all he wanted was his swamp,
the ogre they call Shrek
They wanted to get back to earth,
Cat, Rimmer, Lister, Kryton
Mr Frederikson moved his one,
when all those balloons were tied on
David Tennant was seeking Galifrey,
but he didn't want to go
The little alien seeking home,
the one that they called O
George realises it's the best place
in It's a Wonderful Life
And Forrest Gump went back there
to take Jenny as his wife
I know just how ET felt
When he needed to use that phone
I know just what Dorothy meant
There is no place like home
Victoria Welton 26th August 2015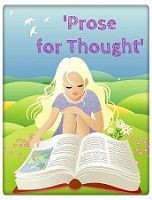 Copyright protected by Digiprove © 2015 Victoria Welton