We moved to Crewkerne in Somerset back in June 2013. At first I have to admit to being apprehensive. I had lived in either Surrey or the nearby county of Berkshire all of my life up until that point. To leave the familiar places I knew was a big jump for me and, at first, I found it hard to adjust. The people were just so nice down here and I did start to wonder if they had an alterior motive! But no, they are just genuinely chatty and friendly.
Over the last couple of weeks I have started to realise just how well I am starting to know my way around. This has helped me to see just how much I have gotten used to our new area and lifestyle over the last year and a half. Grace found her feet very quickly and loves it here. Ross, too, settled in far sooner than I did. And finally I feel like I belong. I have also managed to find my better place – which we discovered last summer and went back to a couple of weeks ago.
Across the road and down the lane from where we live is a public footpath. This takes you into the fields which run alongside the railway track. There are sometimes cows grazing and the fields are peaceful and beautiful – apart from the odd train running through (having grown up living in houses which all had train tracks nearby, I find this somehow comforting). As you walk down into the fields there is a river which follows a winding path off into some woods. As you hop over the style into the woods, there is a little waterfall which Grace believes was built by fairies. This is my better place.
It is a place which I will continue to find magical. Partly because of the way in which Grace has described it and partly because it is always so peaceful. You rarely see another person. Grace, Ross and I have spent time playing in the water, searching the area and just enjoying the peace and quiet. I can't wait for the summer. We will make our way down to the river with our books so that we can enjoy it, maybe take a paddle and definitely lots of photos.
Disclosure: This #BetterPlaces post is in support of the Syndol Headache Relief Find Your Better Place campaign with BritMums. Syndol Headache Relief is formulated for headaches. Visit www.syndol.co.uk for online resources with information about headaches and how to restore calm in your life.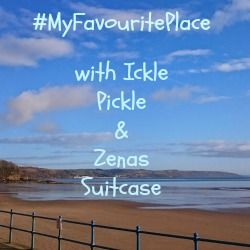 Copyright protected by Digiprove © 2015 Victoria Welton