As you might have seen from last week's post, I am using Mummy B's 52 week photography challenge as a prompt for both my photography and poetry this year.  I am writing my poem in a separate post together with the photo I have taken so not only does it mean that I can link my poem to Prose for Thought but I can also link to other linkies as well.
This week's theme is 'Cold'. I thought I would share my interpretation of that at this time of year!
For the last 8 or so weeks Grace has suffered with a bad cough and cold. It finally seems to be on the way out for her…but now Ross and I have it!
I seem to be spending rather a lot of time here right now…
Cold
She sniffles, she snuffles
She blows and she sneezes
She coughs and she splutters
And occasionally wheezes
The Doc says its a virus
I don't believe him at all
I'm sure they didn't say this
Back when I was small
So I will take care of her
I'll give her my best
I'll give her lots of hugs
And make sure she has rest
Hot drinks and comfort food
Because – so I'm told
It is starve a fever
But you should feed a cold
Victoria Welton 7th January 2015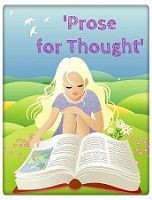 Copyright protected by Digiprove © 2015 Victoria Welton