Welcome to this week's Prose for Thought. Firstly I have to apologise. I haven't done the rounds yet on last week's poems. The reason being is because I was rather busy with a number of events last week and then I had a major problem with my hosting. I was supposed to have changed and someone at my new host hadn't passed my information over to the migrations team. I am still dealing with the fall out now! So, once again, I am sorry.
Over the past couple of months I have started to realise just how prominent bullying is becoming at the moment within the blogging world. I am the sort of person who would love to – and try to – get on with everyone but I am sensible enough to realise that sometimes this just ain't gonna happen! This saying is a good one:
I have come to realise that bullies are basically insecure people and sadly, instead of worrying about what people think (like my type of insecurity!), they turn on others instead in a bid to make themselves feel better. I have also realised that the best thing you can do is just walk away and live yourself without giving them a second thought.
With Anti Bullying Week taking place from 17th to 21st November, I decided to write this poem.
 The Bully
The Bully is an interesting sort
They hate on others without a thought
They words are cruel, they cut and sting
But they act as if they've done nothing
In the past they have made me feel bad
But now I feel so very sad
Not for myself, that is over and done
I now look out for number one
No, they are the ones so insecure
Help is what they need to procure
The trouble is that they don't see
Just what it is they do to me
The best way to solve a bully you know
Is, take it from me, just let it go
Shake off haters, you've a life to live
You have so much more to give
Cut the negative attitudes out
Let them be the ones with their self-doubt
Victoria Welton 12th November 2014
If you have written a piece of original poetry, prose or fiction and would like to share it, then please link up below. I will try my utmost to read every single linker and share on Twitter, Google + or Facebook (please say in the comments if you have a preference). I would also love it if you share and use the #Prose4T hashtag. Please also use my badge below if you are linking up – it helps to publicise the linky to others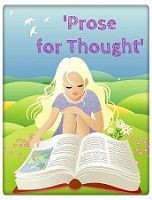 <div align="center"><a href="https://www.vevivos.com/prose-for-thought" title="Prose for Thought"><img src=" http://i1322.photobucket.com/albums/u568/ToriWel/Proseimagesmall_zps637beb08.jpg " alt="Prose for Thought" style="border:none;" /></a></div>
Copyright protected by Digiprove © 2014 Victoria Welton