Welcome lovely people to this week's Prose for Thought.
On Tuesday evening, I was thrilled to be able to join in with the Open Mic Night hosted by Stephanie over at Beautiful Behaviour. Also present were Helen from All At Sea and Sarah from Supper and Syntax. We all read out our pieces and had a lovely chat (both on air and off!). It put things in such a different perspective to hear the pieces live for the first time. I really enjoyed hearing everything that the others had written. The theme was 'Love' although Stephanie was kind enough to let me deviate from the path in order to raise awareness of the Save the Children campain, #firstday, which I wrote about on Tuesday as this was the first day of their launch. We had a twitter chat and managed to get the subject trending. Please go and read my post to find out more.
One of the things we discussed at the blogger conference was how people's lives may have been affected if you had never been born. What I have tried to encompass in my poem is the fact that you don't have to be a parent to understand that lives can be affected. Stephanie paid me one of the biggest compliments when she said that my poem reaches out to everyone. I wanted to capture all walks of life; from Team Honk to Thomas Edison, to famous inventions to my own personal life.  I hope I have. I would love your read your thoughts.
First Day
What if your first day had been your last
How would this have affected the past
Would the deadlines have ever been made
Would those lives have ever been saved
Would that feat have been achieved
Would the people have got what they need
No one to hold a baton for funds
No one to walk, or cycle, or run
All those people not passing their test
The athlete not setting his personal best
No Bell's telephone or Newton's gravity
No Edison's light bulb to help us all see
No humanitarian aid getting through
No one there to support or guide you
Now think of the children who will never be
The one's whom this life will never see
Not given a chance to stay very long
In an instant they've come and then gone
So tell me, what if you first day had been your last
How would this have affected your past?
Victoria F J Welton 25th February 2014
If you have your own poem or piece of prose to share then grab my badge code and click the link below to enter your post. If you share a link back to my page in your post then you will be guaranteed some free publicity from me on Twitter! Don't forget to use #Prose4T when tweeting your post. Check out the Prose for Thought page for full details.



I would love some votes in the MAD Blog Awards please. I was there last year as a finalist and would like the chance to be there again. I'd love to be considered for Most Innovative and Best Writer and possibly even Blog of the Year if you think I am worthy!  Please go across to http://www.the-mads.com/awards/ and enter my URL https://www.vevivos.com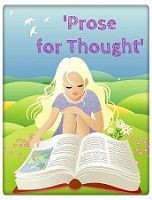 <div align="center"><a href="https://www.vevivos.com/prose-for-thought" title="Prose for Thought"><img src=" http://i1322.photobucket.com/albums/u568/ToriWel/Proseimagesmall_zps637beb08.jpg " alt="Prose for Thought" style="border:none;" /></a></div>
Copyright protected by Digiprove © 2014-2016 Victoria Welton