Thank you once again to all who linked to Prose For Thought last week with their original poetry and prose. We are regularly attracting new poetry linkers and inspiring those who do not normally put pen to paper in this way to write – and they are doing a fantastic job.  I think there are many who are surprising themselves at what they can do with a little bit of inspiration. I hope that the fact that I am (so far) managing to stick to NaPoWriMo and written 18 poems in 18 days is helping too! (If you would like to see the other poems I've written just search my blog for NaPoWriMo).
This weeks Prose For Thought poem is little different to the norm. I wanted to play with words that rhyme and see if I could place them in such a way to make sense. It was an interesting concept that came to me yesterday afternoon when driving to get Grace from school. As usual I had to stop the car to sit and type it into my phone so I didn't forget! The result – finished just after midnight! – is below.
Life Should be This
Annotation
A celebration
Strange sensation
Determination
No extermination
Walk in the park
Lark in the dark
Hark! Are you stark?
Speak soft, don't bark
Go make your mark
Don't act the fool
Some kind of mule
Don't be a tool
Play by the rule
Cease the duel
Hit not miss
Hug and kiss
Mrs not miss
Not sad, just bliss
Life should be this
© Victoria Welton 18th Ap
ril 2013
I would really love and appreciate your comments below – and please, go and visit and comment on, the poems from the people who link up 
If you have your own poem or piece of prose to share then grab my badge code and click the link below to enter your post. If you share a link back to my page in your post then you will be guaranteed some free publicity from me on Twitter! Don't forget to use #Prose4T when tweeting your post (and #NaPoWriMo this week).  Check out the Prose for Thought page for full details.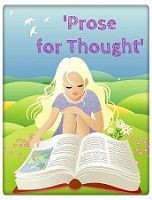 <div align="center"><a href="https://www.vevivos.com/prose-for-thought" title="Prose for Thought"><img src=" http://i1322.photobucket.com/albums/u568/ToriWel/Proseimagesmall_zps637beb08.jpg " alt="Prose for Thought" style="border:none;" /></a></div>