Last week saw the most successful 'Prose for Thought' so far, so a massive thank you to all the lovely people who linked up – appropriately for World Poetry Day. It makes my heart happy to see there is still poetry in the world!
This week my poetry is used for the usual reason. To get something off my chest. And this is something that affects me more than people realise. The school playground. I can't stand it. It's like being back at school and I have now started to wait in the car until the last possible moment to go in and drop Grace off and pick up her up.
Grace goes to school near Ascot and I'm afraid that this post will now mean that I will be even less popular in the school playground than I feel already (I am aware that some of the Mums read my blog!). There are some Mums who I class as 'the ladies who lunch' who stand around in groups gossiping about the school, other Mums, the latest village gossip, who's doing what. I really don't want to get involved in all that!
I think this poem says it all really.
Competitive Mum
In the playground, make-up plastered
Talking humanely they haven't mastered
A chattering clique, they stand in groups
To join them you must jump through hoops
Oh, and another thing, act like you're loaded
I'm sorry, I just won't be goaded
What?! You act like you're back at school
I'm telling you that I am nobody's fool
Because when all is said and done
I'm not cut out to be Competitive Mum
I would really love and appreciate your comments below – and please, go and visit and comment on, the poems from the people who link up
If you have your own poem or piece of prose to share then grab my badge code and click the link below to enter your post. If you share a link back to my page in your post then you will be guaranteed some free publicity from me! Check out the Prose for Thought page for full details.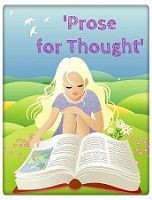 <div align="center"><a href="https://www.vevivos.com/prose-for-thought" title="Prose for Thought"><img src=" http://i1322.photobucket.com/albums/u568/ToriWel/Proseimagesmall_zps637beb08.jpg " alt="Prose for Thought" style="border:none;" /></a></div>