Welcome to this week's Post Comment Love and what a week it's been! We are well and truly into the festive season and the past week has seen us visit Father Christmas at London Zoo and get our tree and decorations up including….for the first time EVER for me….outside lights :). I will also be spreading some Christmas cheer to the women and children in my local refuge next week as well thanks to M&S and Kiddicare as well as some donations from me and Grace.  She was so lovely. She told me that as she felt she was too grown up for her Merida rag doll – which, incidentally, she has hardly played with – she would like to give it to a little girl who really needed something to cuddle.
Last week I wrote about the Perfect Christmas for the Tots 100 competition as well as sharing some top tips to keep your budget under control all year round, I have shared some good gift guides from Parragon books, Lucas Frank and Truprint as well as a number of videos about conception advice from Zita West.
This weekend sees a lovely quiet one for me and Grace whilst Ross is has another weekend of singing gigs. On Sunday, Ross' best friend, Iain, is coming to stay for a couple of days and then the fun of the last week of term before Christmas begins! We have two rounds of nativity, a panto, Father Christmas landing in a helicopter AND a Christmas party! Phew!
I finally found out from my Physiotherapist yesterday that I have a frozen shoulder – and there is not much I can do about it except take painkillers and ride it out! It can take up to a year to get better too. Oh well, just think how much harder I will be as a result!
Because #PoCoLo is so busy now – thank you so much to all of you for making it such a success – I will be commenting on all posts (even if it takes me to the following PoCoLo and beyond!) BUT I will only be tweeting your post if you either are displaying the PoCoLo badge or linking back to my blog. This is by way of a thank you from me to you for supporting the linky.
If you are a regular here then it would be great if you spread the #PoCoLo word. However, if you are new here then welcome! Post Comment Love is all about sharing posts which you have written this week which just haven't got the attention they deserve and, with them all in one place, we can help each other share the comment love. This is one of the easiest links EVER. You don't have a 'special theme' to have to write about, the post can be personal, sponsored, a photo, a review, a competition, your own linky, something you've linked to a linky….WHATEVER you like – it's one you've already written this week! If you want some publicity and attention, then you are in the right place!
The only rules are that you comment on at least two of the other posts in the link (maybe the one above and one below yours?!) and then spread the #PoCoLo about this link up on Twitter. The post you link up has to have been written in the last week. The link will go up every Friday at 6.30am and close on Sunday evening at 8pm.
Remember, the more people who link up, the more attention your post is likely to get so please spread the Post Comment Love word and #PoCoLo. Also, don't forget to display the PoCoLo Badge (code below), again the more people who see it, the more attention your lonely post will get.
I have a list for the Newbie Showcase running into July 2014! If you would like to be featured then please email me at [email protected] so I can put you on the rota. Remember, your blog needs to be under a year old to feature.
This week's newbie showcase is the wonderful Stephanie from Beautiful Misbehaviour. She links up to Prose for Thought and PoCoLo every week and l am very grateful for her support. She is a fabulous writer so please pay her a visit.
Hello all!  It seems like a million years ago when I first asked Victoria if I could feature as her newbie blogger of the week, I am so excited to be able to share a bit of my journey with you all.
I have been blogging for a few months now over at beautifulmisbehaviour.com.  If I am being totally honest I am still finding my voice as a blogger but at the heart of it is a passion for getting the voices of women, especially mothers, out there into the world.     I believe that mothers have something unique to say yet women so often have their voices and experiences marganalised.  I am interested in making motherhood and women's experiences in life (as we see them, not as the media/society do) more visible and encouraging women to share their creative writing.
To try and make this happen in my own wee way I have created a couple projects that focus on getting women's voices heard.  The first is the Virtual Open Mic Night which gives women who may not have the chance to perform their writing at an in person event due to childcare or location, a chance to perform in a live on-line broadcast.  We recently held our third open mic night and will be back in the new year so if you are interested in getting involved please get in touch – we would love to have some new voices perform.  You can also watch along on the night or catch up on my you tube channel after the event.
The second project is Mother Hens.  This project is about creating a space of the collective wisdom of women by asking them to write letters of hope, encouragement and advice to other women and girls.  Perhaps you have a particular experience that you feel you could speak about, or maybe you just want to write a letter to your younger self.  The letters can be on any topic and I would love to have a wide variety of women with different experiences participate so please do give me a shout if you think you would like to feature.
Thank for taking the time to read.  I have loved being a part of the blogging community and I look forward to getting to know more over time.  Coincidently today would have been my late Gran's birthday. She was as strong a woman as I have ever met and a great inspiration me, as are so many women I meet.  I write to champion her, you and all women everywhere.
Find Stephanie and Beautiful Misbehaviour on Twitter and Facebook.
So please pay Stephanie and some of the other lovely linkers below a visit with some #PoCoLo. Have a wonderful weekend all x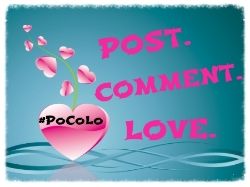 <div align="center"><a href="https://www.vevivos.com/post-comment-love" title="Post Comment Love"><img src=" http://i1322.photobucket.com/albums/u568/ToriWel/4e4a1bf6-07cb-494b-b06e-f959b1fe1311_zps654d027a.jpg" alt="Post Comment Love" style="border:none;" /></a></div>
Copyright protected by Digiprove © 2016 Victoria Welton