This week has not really been big on motivation for me when it came to my blog, I have to be honest. I have kind of felt like it can take a little bit of a back seat for a number of reasons – which include me generally living life!
With the weather being so lovely, I have found a different motivation so, after school on Monday, Ross, Grace and I went for a walk before dinner. I took my camera and we set off down the hill and then up and around to the park.
Grace and Ross headed for the swings (standard) and I decided to photograph them (again, standard) but I wanted to find a different angle on the whole thing.
With 'motivation' being this weeks photography and poetry prompt, I felt this was an apt image – motivating in more ways than one. Please find my poem – a rhyming acrostic – below.
Moping around all day, it won't get you very far
Other people see you moan and won't care who you are
Total dedication to just where you want to be
I'm a firm believer of be the change you want to see
Vocalise and mobilise and put your best foot first
Actions speak much louder than words, a life is unrehearsed
Time and tide wait for no man, isn't that the saying?
I'm the only one in my life who can make sure I'm purveying
Over and above everything I need my determination
No one else but me can find my total motivation
Victoria Welton 15th April 2015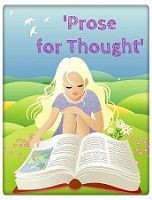 Copyright protected by Digiprove © 2015 Victoria Welton