Welcome everyone to this week's Prose for Thought. Thank you to all of you who linked up last week. By the time you read this, I should have visited everyone!
I don't know about you but at this time of year, despite the fact that I love the festivities of all things leading up to Christmas, I do start yearning for the sun and the holiday season again. Travel seems to be the in thing in the blogging world at the moment, so, what better thing to do than to write a poem about holidays?!
The Holiday
So what's it to be and where shall we go?
Will it be sunshine or will it be snow?
Will it be city or will we choose beach?
For some the budget is way out of reach
I'll tell you what is not for me, is camping
Unless maybe it's this thing that's called glamping
Now I'd really love to experience a cruise
That is sure to take away the winter blues
Floating around without any care
Letting the Captain just take us there
The Baltics, Canaries or the Carribean
I don't mind – it's new cultures I'm seeing
A beach all day for me can be boring
Just watching others just drinking or snoring
I would like to go off and explore
But occasionally relax – much less of a bore
Finding new places is right up my street
You never know who or what you might meet
Then, of course, there is the good old UK
Although the weather changes from day to day
You can't beat the seaside fish and chips
Searching in rock pools, in the sea taking dips
Candy floss, arcades and yummy ice creams
The laughter of children mixed in with their screams
So what is it that you're looking for?
Is it a relaxing one or do you want more?
Do you want to chill and just take it slow?
Or are you too restless, want to be on the go?
But whatever it is, may I just say
That all of us need it, the holiday.
Victoria Welton 12th November 2014
If you have written a piece of original poetry, prose or fiction and would like to share it, then please link up below. I will try my utmost to read every single linker and share on Twitter, Google + or Facebook (please say in the comments if you have a preference). I would also love it if you share and use the #Prose4T hashtag. Please also use my badge below if you are linking up – it helps to publicise the linky to others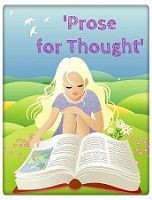 <div align="center"><a href="https://www.vevivos.com/prose-for-thought" title="Prose for Thought"><img src=" http://i1322.photobucket.com/albums/u568/ToriWel/Proseimagesmall_zps637beb08.jpg " alt="Prose for Thought" style="border:none;" /></a></div>
Copyright protected by Digiprove © 2014 Victoria Welton