Welcome to this week's Prose for Thought and thank you to everyone who linked up last week.
For 10 days now, Ross and I have been on a detox. We started off with just juice and in the first week we lost 15lbs between us. We have now moved onto juice for breakfast and lunch with soup in the evening. Ross has included meat into his diet but I am staying vegan for now. We have also started to use the gym in our garage. We have a weights bench, a treadmill and an exercise bike.
I have to say that, as a result of all this, my general wellbeing is far better than it has been for the last year. I feel more positive, much happier and generally have more energy. This is what has inspired my poem this week.
Go For Healthy Food!
How could I have not seen it
For so very long
I knew that inside
Something was so wrong
My intake, it was poor
My defenses, they were low
I didn't really realise
How could I truly know
I was having the wrong fuel
And my body, it was lifeless
Suffering from sadness
And general tiredness
But now I have the colour
Back into my diet
Give me fruit and veg
From Lidl is where we buy it
There is my faithful juicer
That puts food through its pace
From morning until evening
It is all we taste
But is it really worth it?
All this detoxing
Will health overcome?
And will my body win?
I guess that time will tell
But so far so very good
A moral for you, when you're down
Go for healthy food!
Victoria Welton 22nd October 2014
If you have written a piece of original poetry, prose or fiction and would like to share it, then please link up below. I will try my utmost to read every single linker and share on Twitter, Google + or Facebook (please say in the comments if you have a preference). I would also love it if you share and use the #Prose4T hashtag. Please also use my badge below if you are linking up – it helps to publicise the linky to others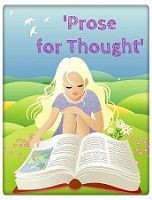 <div align="center"><a href="https://www.vevivos.com/prose-for-thought" title="Prose for Thought"><img src=" http://i1322.photobucket.com/albums/u568/ToriWel/Proseimagesmall_zps637beb08.jpg " alt="Prose for Thought" style="border:none;" /></a></div>
Copyright protected by Digiprove © 2014 Victoria Welton