Welcome to this week's Prose for Thought and thank you once again to all who linked up last week and for your wonderfully supportive words on my poem. Many of you 'got' what I was talking about and I glad to say that that week is over for another year.
This week I have taken up one of the challenges that was set in your comments the week before last. I was told by Chrissie from Muddled Manuscript that a poem about Twitter was in order. Oh, the things I could say – how could I resist?!
As you may have noticed with me, I love a good play on words. Which is what I have done with the title of the poem! Normally the wrap wouldn't not have the 'w' but I felt that it summed the poem up better by calling it a 'wrap' as I believe that this poem wraps up Twitter in 6 verses!
If you would like to set me another challenge for next week then please do leave me your idea in the comments section below. In the meantime, I hope you enjoy this weeks and I look forward to reading yours too.
The Twitter Wrap
Travelling through time, no space
Gone in an instant, without a trace
The timeline is like one long race
And nobody can see your face
Harrassment happens to some, it's true
Just hope and pray it is not you
Use it for good is what you should do
Oh, and a bit of self-promotion too!
One40 characters is not much
The words for which you struggle to clutch
As your grammar gets further out of touch
It appears you're speaking double dutch
You will find all sorts over there
Venture to this place if you dare
There are people who overshare
And swear like troopers without a care
Real accounts with an official blue tick
Whilst the fake ones really take the mick
They must think we are so thick
If they think we'll fall for their latest trick
Tweet, favourite, retweet again
It's enough to drive you really insane
Hide your identity, oh yes, you can feign
And Twitter becomes a massive time drain
Victoria Welton 8th October 2014
If you have written a piece of original poetry, prose or fiction and would like to share it, then please link up below. I will try my utmost to read every single linker and share on Twitter, Google + or Facebook (please say in the comments if you have a preference). I would also love it if you share and use the #Prose4T hashtag. Please also use my badge below if you are linking up – it helps to publicise the linky to others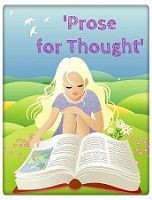 <div align="center"><a href="https://www.vevivos.com/prose-for-thought" title="Prose for Thought"><img src=" http://i1322.photobucket.com/albums/u568/ToriWel/Proseimagesmall_zps637beb08.jpg " alt="Prose for Thought" style="border:none;" /></a></div>
Copyright protected by Digiprove © 2014 Victoria Welton