Welcome to this week's Prose for Thought and today, appropriately, it is National Poetry day! Definitely a day to celebrate.
A big thank you to everyone who linked up their wonderful creativity last week and for the kind comments about my poem.
I know that some of you lovely people set me a poetry challenge last week but I am going to carry that over to next week. I hope you don't mind.
Today, I am not going to explain my poem. I am just going to let it 'be'.
One Year On
A twinkle in my eye
Is what you were to me
All I could do was cry
It wasn't meant to be
You went before you came
A tiny space and time
So was it me to blame?
I wonder what's my crime?
Trying hard to blot it
But it's always in my face
Everyday I see it
Out there in cyberspace
Those people out there
They don't really know
I'm sure that they would care
That I feel each share a blow
One year on it takes me
And still you've not returned
Is this what it's going to be?
My heart still getting burned
Well we won't ever give in
Here is your rightful place
So come and start the living
We can't wait to see your face
Victoria Welton 2nd October 2014
If you have written a piece of original poetry, prose or fiction and would like to share it, then please link up below. I will try my utmost to read every single linker and share on Twitter, Google + or Facebook (please say in the comments if you have a preference). I would also love it if you share and use the #Prose4T hashtag. Please also use my badge below if you are linking up – it helps to publicise the linky to others 🙂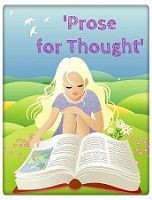 <div align="center"><a href="https://www.vevivos.com/prose-for-thought" title="Prose for Thought"><img src=" http://i1322.photobucket.com/albums/u568/ToriWel/Proseimagesmall_zps637beb08.jpg " alt="Prose for Thought" style="border:none;" /></a></div>
Copyright protected by Digiprove © 2014 Victoria Welton