Welcome to this week's Prose for Thought and thank you to everyone who linked up last week. It is great to see more creative types coming out of their shells and I noticed that a couple of the Dad Bloggers who don't normally link up had started to put some poems and fiction together. It is always so inspiring to read all of the amazing words that people write, there is so much talent out there.
Next week I would really like to try something a bit different, so, if you comment on my post below please would you put in a subject that you might like to see me write a poem about? I will then pick one and write about it next week. (cripes! That is going to be an interesting task!).
This week I have decided to reflect on the tough times that people face and how they deal with them – or at least how I do! I try hard not to become a victim (it is so easy for so many to fall into that role) and rather than let that overwhelm me, I keep going knowing that eventually I will get what I want if I try hard enough. And hey, if I don't, then at least I can say I have tried, right?!
Never Give Up
Do you know what's bugging you?
Do you know what's wrong?
Where do you look to find help
When it feels like hope has gone?
Calm up on the water
But frantic underneath
You try hard to hold on
To your steadfast strong belief
But don't I now deserve this
With the penance I have paid?
With all the things the past holds
And the way I was betrayed
Even the tough are tested
Within their hour of need
It matters how you persevere
It's not about how you plead
Never give up on what you want
Fight hard and fight strong
Stay true to each other and yourself
And you really can't go wrong
Victoria Welton 24th September 2014
If you have written a piece of original poetry, prose or fiction and would like to share it, then please link up below. I will try my utmost to read every single linker and share on Twitter, Google + or Facebook (please say in the comments if you have a preference). I would also love it if you share and use the #Prose4T hashtag. Please also use my badge below if you are linking up – it helps to publicise the linky to others 🙂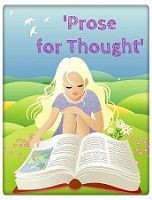 <div align="center"><a href="https://www.vevivos.com/prose-for-thought" title="Prose for Thought"><img src=" http://i1322.photobucket.com/albums/u568/ToriWel/Proseimagesmall_zps637beb08.jpg " alt="Prose for Thought" style="border:none;" /></a></div>
Copyright protected by Digiprove © 2014 Victoria Welton