Welcome to this week's Prose for Thought and what else could I write about this week but tomorrow's impending MAD Blog Awards?!
It is the second time in two years that my blog has made the finals in the Most Innovative Category. Ross asked me on Tuesday whether I was nervous. 'Nah' I told him, 'not in the slightest'. Well now it is kind of creeping up on me. Last year I was nervous mainly because I had no clue what to expect and never thought I would win it. Well, this year, I would REALLY love to win. Really. But if I don't then I know, without doubt, that I will have another amazing night with the perfect excuse to dress up in my finery, have my make-up and hair done, chat to all my lovely blogger friends, enjoy a scrumptious 3 course meal AND be able to share it with Ross this year who will be videoing the whole caboodle. Last year I had an absolute blast and I can't wait to do it all again!
This poem is a 'thank you' to everyone who voted for me. I hope I do you proud.
Win Or Lose
It is tomorrow, the day has arrived
The time has finally come
For the 2014 MAD Blog awards
Soon enough, we'll know who's won
Once again, I don't know how
I made it through to the final few
And if it was you who put me there
A really great big THANK YOU
I don't why, I don't how
I don't know what I've done
I love to help see people succeed
And become their own number one
If I told you I didn't want the award
You know that I would be lying
But if by chance I somehow win
You know I'll end up crying
To be able to call this space
An award-winning piece of the net
Would be an amazing accolade
The best I could ever get
Whatever happens though
Whether I pull through or do not
I really love the things I do
I'm very happy with my lot
Victoria Welton 17th September 2014
If you have written a piece of original poetry, prose or fiction and would like to share it, then please link up below. I will try my utmost to read every single linker and share on Twitter, Google + or Facebook (please say in the comments if you have a preference). I would also love it if you share and use the #Prose4T hashtag. Please also use my badge below if you are linking up – it helps to publicise the linky to others 🙂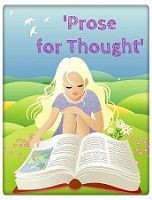 <div align="center"><a href="https://www.vevivos.com/prose-for-thought" title="Prose for Thought"><img src=" http://i1322.photobucket.com/albums/u568/ToriWel/Proseimagesmall_zps637beb08.jpg " alt="Prose for Thought" style="border:none;" /></a></div>
Copyright protected by Digiprove © 2014 Victoria Welton