Have you seen the new 'water enhancers'? We have, and we have tried a couple of brands so when Vimto sent us their range I have to admit to being a little apprehensive. I needn't have been because there is something there for everyone!
Called 'Vimto Squeezy' they come in mini bottles but are big on flavour….and servings! One bottle makes around 25 drinks. Which means they are great to carry around in your pocket and instantly add to water to help hydration and make the water a little more interesting. What is even better is that they have no added sugar which means almost zero calories.
To test out the hydration and taste factors, Vimto kindly sent us to Go Ape and namely the Tree Top Junior course.
Grace was able to bring a friend and so, once we had collected Lucy, we set off for Moors Valley Country Park near Ringwood in Bournemouth.
Arriving, I was really impressed with the woodland. It was a beautiful place and I would definitely like to go back for a longer visit. We located the Go Ape Cabin easily and once, we had signed in, we got harnessed up! I have to admit to being a little apprehensive given my shoulder situation, as was Ross, but we didn't want to show the girls our concern!
We had around an hour to make the course ours! Firstly we set off round a smaller 'practice' course to get used to the obstacles and height. There was one particular route – the zig-zags – which I had the heebie jeebies with but I loved the netting (felt safer there) and my absolute favourite was the zip wire!
Take a look at our photo's and the zip wire video and it will give you a great idea of what we got up to.
So, what about the Vimto? Well, Ross and Lucy liked the Strawberry, Grace enjoyed the Original flavour so I was rather chuffed – Cherry is my absolute favourite! Even better was the fact that it kept us going – even when we were stuck in traffic on the way home!
Disclaimer: We were sent some Vimto and on a day out to Go Ape Moors Valley Country Park and the Junior Tree Top Adventure in return for this review, however, all words and opinions are ours and have not been influenced in any way.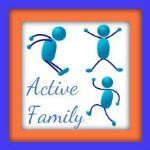 Copyright protected by Digiprove © 2014 Victoria Welton