Welcome to this week's Prose for Thought and the start of the school holidays!
I don't know about you but I am really exhausted and am finding my creativity waning somewhat at the moment. Therefore, during the month of August, Prose for Thought is taking a holiday.
A break is a good thing. I always find that stepping away now and again means that I will come back with a renewed strength and will find myself full of creativity again and will probably write plenty of poems – especially when I find I don't have to force one!
So, next week will be the last Prose for Thought until 4th September when it will be back stronger than ever!
In the meantime, I would like to share another poem that I wrote for NaPoWriMo last year. One that will resonate with any one taking a road trip or driving off on holiday!
A Journey So Long
People driving here and there
Where are they going? Do they care?
A journey to see how far it is
Kids make a noise, Dad's in a tiz
Just what to do on a journey so long
Keep your temper, just stay strong
'Are we there yet?' young voices ask
Driving can be a thankless task
Let's play a game, maybe I-Spy
The baby is hungry and starts to cry
Let's all stop and have a break
How much longer is this going to take?
Not much more, don't your fear
Turn the corner, ah we're here!
© Victoria Welton 5th April 2013

If you have your own poem or piece of prose to share then grab my badge code and click the link below to enter your post. If you share a link back to my page in your post then you will be guaranteed some free publicity from me on either Twitter or Google +. Don't forget to use #Prose4T when tweeting your post. Check out the Prose for Thought page for full details.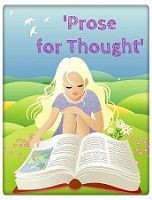 <div align="center"><a href="https://www.vevivos.com/prose-for-thought" title="Prose for Thought"><img src=" http://i1322.photobucket.com/albums/u568/ToriWel/Proseimagesmall_zps637beb08.jpg " alt="Prose for Thought" style="border:none;" /></a></div>
Copyright protected by Digiprove © 2014 Victoria Welton