Welcome everyone to this week's Prose for Thought. Thank you to all of those who linked up last week and especially to some more seasoned bloggers who linked to Prose for Thought for the first time. As I said on one of the comments, it always heartens me to see just how many bloggers are so brilliant at creative writing – but I guess we get enough practice at it!
This week I thought I would share some song lyrics I wrote with a friend way back in 1995! There is a tune which I haven't put up this time around but I have always enjoyed looking back at the words to this one. I have always believed that it flows so nicely and has always conjured up wonderful imagery for me.
I would love to know what you think.
Find Someone
So my friend your time has come
The happiness that comes to everyone
And so I sit and wait my turn
Patience is a game I'll learn
So my friend your fields are green
In pastures where I've never been
You tell me of the fragrant air
But I have yet to venture there
Long time ago I knew someone
They found me out, it didn't take long
I turned my back and to my surprise
I called his name, he was there in my eyes
But he was gone…gone..gone
Feeling good, I was feeling fine
Acting quick, just biding my time
I had a guy, thought he was mine
Fell in love and that ain't no crime
But now he's gone…gone…gone
So my friend what I must do
Is follow in the path of you
Don't need to spend my life alone
Just find someone to call my own.
Victoria Welton 1st February 1995
If you have your own poem or piece of prose to share then grab my badge code and click the link below to enter your post. If you share a link back to my page in your post then you will be guaranteed some free publicity from me on Twitter! Don't forget to use #Prose4T when tweeting your post. Check out the Prose for Thought page for full details.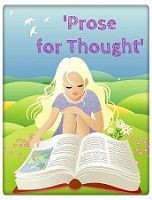 <div align="center"><a href="https://www.vevivos.com/prose-for-thought" title="Prose for Thought"><img src=" http://i1322.photobucket.com/albums/u568/ToriWel/Proseimagesmall_zps637beb08.jpg " alt="Prose for Thought" style="border:none;" /></a></div>