Welcome everyone to this weeks Prose for Thought. Thank you to everyone who linked up last week. I haven't quite got round to visiting you all but I will ensure that I do.
Last Sunday, Stephanie, from Beautiful Misbehaviour, shared this article from the Birmingham Mail that Maureen Messent had written. She was basically saying that the women involved in abusive relationships were basically 'asking for it' because they weren't leaving. Rubbish.
I shared this on Facebook and it provoked a lot of discussion and anger about what this woman had written.
Anyone who is, or has been, involved in an abusive relationship – whether it be physical or emotional – will understand how difficult it is to leave. You may be isolated from your friends and family. You may be financially dependent on him. You may be worried about losing your children. And, you may be fearful of what will happen to you and your kids if you do leave.
What these women need is patience, kindness and understanding. Their self-esteem is already non-existent so, for a member of the media (and a female one at that!) to blast them and blame them for something that this not their fault is so very wrong and will just serve to set them back even further.
I am pleased to say that I will have a guest post from someone who is directly involved in Domestic Abuse cases coming up on this blog. In the meantime, I would like to share a poem with you that I wrote for Women's Aid and my Freedom Programme back in November 2008 after I had got out and realised what had been happening to me. I have already written Part 1 and Part two of my story. I hope this all helps someone out there.
The Strength Within
You may feel at this moment
That you are on your own
Please believe me when I say
That you are not alone
He may punch, he may kick,
He may have a way with words
But there are people out there
Waiting for you to be heard
He may make you feel worthless
And that you'll be nothing without him
But you are worth much more than this,
You cannot let him win
He may try to contol the children
And turn them against you
But they will see the real truth –
Something only time can do
So next time you hear yourself say
What on earth shall I do
Just remember there are people out there
Just wanting to help you
Find the strength within yourself
To move out and move on
Because what this monster is doing to you
Is physically and morally wrong
It may still feel difficult
To live through all this pain
But one day soon you'll find a better life
And learn to live again
Victoria Welton November 2008
If you have your own poem or piece of prose to share then grab my badge code and click the link below to enter your post. If you share a link back to my page in your post then you will be guaranteed some free publicity from me on Twitter! Don't forget to use #Prose4T when tweeting your post. Check out the Prose for Thought page for full details.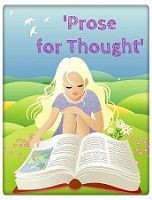 <div align="center"><a href="https://www.vevivos.com/prose-for-thought" title="Prose for Thought"><img src=" http://i1322.photobucket.com/albums/u568/ToriWel/Proseimagesmall_zps637beb08.jpg " alt="Prose for Thought" style="border:none;" /></a></div>
I am so excited to have made this years finals of the MAD Blog Awards in 'Most Innovative' once again and would love the chance to win my category this year. If you would like to support me then please go to http://www.the-mads.com/vote/ and choose 'Vevivos' in the drop down menu. Also, if you would be kind enough to vote for me in the BiBs, my chosen categories are on my side bar to the right, near the top. Just click on those to take you across. Thank you so much for your valued support 🙂 x
Copyright protected by Digiprove © 2014 Victoria Welton