Welcome everyone to April, the Easter holidays and this week's Post Comment Love!  Thank you once again to all 107 linkers last week – you are all simply amazing for this supporting this linky which has become a little blogging community in itself from what I have seen 🙂 Everyone is so supportive of one another. This week's featured badge belongs to Leanne from Leanne's Blog. Click on the image if you would like to pop over for a visit.
Regulars of #PoCoLo will know that I don't highlight posts from the previous week as I want to be fair to everyone but, last week, I read a post that made me cry bucket-loads. Once in a while you read a post that just stays with you. It was from Happy Healthy Mumma sharing what her Mum had taught her. Just beautiful.
This week, for some reason, has been an emotional one. We had Grace's parents evening on Monday and we were pleased to hear that she had already reached the required level for the end of the year in her reading and maths and had actually exceeded the level for her writing.  Then, on Wednesday, I noticed just how much my little girl was slipping through my fingers and wrote this rather emotional poem on Prose for Thought yesterday.
Yesterday Ross came back from a business trip and bought Grace and I a present. He knows that we listen to the songs from Frozen every morning as we get ready for school so he got us the film! It is the one to watch today for our Family Film Friday! So looking forward to seeing it again. Then, this weekend we are off to Portland. It is also one of my favourite events of the year tomorrow – the Grand National. I have had a place in the top 3 for 24 years now and I shall be trying to keep my record intact!  We have a VERY busy two weeks planned and are very excited to be busy doing lots of things which I will be sharing with you.
This week's #SoFoLo is to give each other some Kred. It works in a very similar way to Klout and helps your social media score. To find out more then please pop over to share your profile and receive some Kred from fellow linkers.  Don't forget our #SoFoLo community too where you can come and post your PoCoLo post for some more +1s and shares as well as any of your social media accounts of yours that need more followers.
If you are a regular here then it would be great if you spread the #PoCoLo word. However, if you are new here then welcome! Post Comment Love is all about sharing posts which you have written this week which just haven't got the attention they deserve and, with them all in one place, we can help each other share the comment love. This is one of the easiest links EVER. You don't have a 'special theme' to have to write about, the post can be personal, sponsored, a photo, a review, a competition, your own linky, something you've linked to a linky….WHATEVER you like – it's one you've already written this week! If you want some publicity and attention, then you are in the right place!
Please make sure you go across and comment on at least two other linkers posts. Linkys work if everyone supports each other 🙂 then spread the #PoCoLo about this link up on Twitter. The post you link up has to have been written in the last week. The link will go up every Friday at 6.30am and close on Sunday evening at 8pm.
I have a list for the Newbie Showcase running into February 2015!! If you would like to be featured then please email me at vickywelton@hotmail.com so I can put you on the rota. Remember, your blog needs to be under a year old to feature. I appear to be up to date with everyone – for a change!
This week is one of the lessor known bloggers. She is the lovely Mummy Morkus, who tells me that she feels that her blog is 'nowhere near as pro as some of the previous bloggers' on the newbie showcase. I can't actually see what she means and it certainly doesn't mean she doesn't write a great post! Please show her your support.
Hello I am Mummy Morkus and I have a daughter L who was born in June 2013. One morning in August I woke up and, indigent to the medias treatment of The Duchess of Cambridge, I felt I had some thing to share in the world of Mummy bloggers so I set up The Life and Times of Mummy Morkus. My first post was about body image post baby and I have blogged about a whole range of things since.
I live in South East London and together with L enjoy taking photos, mostly on my trusty phone, playing and talking about playtime, using cloth nappies, wearing pyjamas and eating cake. I am a passionate breast feeder but am pro feeding in which ever way works for you and baby and get very cross when formula feeding mums are made to feel guilty and when breast feeding mums are made to feel ashamed of public feeding.
I am never far from my phone and use Instagram to share loads of photos of L. She is well trained in cameras now, and like her father loves her own reflection and the attention of a lenses.
I've really enjoyed entering the world of the Mummy Blogger, I've benefited from support and advice via twitter, shared stories with other bloggers about birth, weddings or weaning and laughed along as I see babies of a similar age to L getting up to mischief and making milestones.
So, whether you want to #PoCoLo, #SoFoLo or both, please pay Mummy Morkus, and some of the lovely linkers below, a visit. Have a great weekend xx
Link Your PoCoLo Posts here:
Go Over and Link Your #SoFoLo Kred Pages HERE.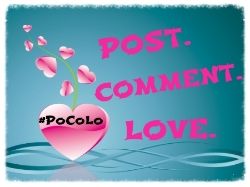 <div align="center"><a href="https://www.vevivos.com/post-comment-love" title="Post Comment Love"><img src=" http://i1322.photobucket.com/albums/u568/ToriWel/4e4a1bf6-07cb-494b-b06e-f959b1fe1311_zps654d027a.jpg" alt="Post Comment Love" style="border:none;" /></a></div>
I am so excited to have made this years finals of the MAD Blog Awards in 'Most Innovative' once again and would love the chance to win my category this year. If you would like to support me then please go to http://www.the-mads.com/vote/ and choose 'Vevivos' in the drop down menu. Also, if you would be kind enough to vote for me in the BiBs, my chosen categories are on my side bar to the right, near the top. Just click on those to take you across. Thank you so much for your valued support 🙂 x
Copyright protected by Digiprove © 2014 Victoria Welton