Welcome one and all to this week's Prose for Thought. Once again I am looking forward to reading everyone's brilliant creations. There were some real stunners last week.
This month's poetry and prose round-up over on BritMums is up and, for the very last time, Helen from All at Sea is my co-editor. She and I started the round-up just under a year ago. I am so sad to see her go but we are very pleased that we have a wonderful poet taking her place.
Yesterday, for some reason, I was feeling emotionally nostalgic. I was climbing the stairs with Grace after finishing our breakfast and I looked down at her hand holding mine. I thought to myself that it won't be much longer that she does this, and it wasn't so long ago that her hand was so much smaller and she held mine so much more.  She regularly still holds it on our walk to school but I know it won't be long before that 'isn't cool' any more.  This poem sums up my feelings about this (I admit to tears when writing it).
I Noticed It This Morning
I noticed it this morning
How your hand fits
Inside mine
How, over the years
I have to stretch my grasp
Just that bit w i d e r
As though time
Is getting me ready
For the inevitable
I noticed it this morning
How this once tiny hand
Is getting
That bit bigger
Ready to take on a life
A life of your own
One where your grip
Will be given
To another
I noticed it this morning
How it won't be long
Before I have to
Loosen my hand
To eventually let go
But even though
My hand will slacken
My arms will always be there
To catch you
Victoria Welton 2nd April 2014
If you have your own poem or piece of prose to share then grab my badge code and click the link below to enter your post. If you share a link back to my page in your post then you will be guaranteed some free publicity from me on Twitter! Don't forget to use #Prose4T when tweeting your post. Check out the Prose for Thought page for full details.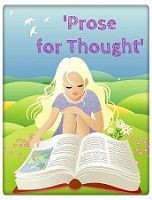 <div align="center"><a href="https://www.vevivos.com/prose-for-thought" title="Prose for Thought"><img src=" http://i1322.photobucket.com/albums/u568/ToriWel/Proseimagesmall_zps637beb08.jpg " alt="Prose for Thought" style="border:none;" /></a></div>
I am so excited to have made this years finals of the MAD Blog Awards in 'Most Innovative' once again and would love the chance to win my category this year. If you would like to support me then please go to http://www.the-mads.com/vote/ and choose 'Vevivos' in the drop down menu. Also, if you would be kind enough to vote for me in the BiBs, my chosen categories are on my side bar to the right, near the top. Just click on those to take you across. Thank you so much for your valued support 🙂 x
Copyright protected by Digiprove © 2014 Victoria Welton