Hi everyone and welcome to this week's Prose for Thought. Firstly, I would like to apologise for not getting round to everyone who linked up last week – I intend to make amends for that today and read and tweet last weeks links before I get on to this weeks! I will not let myself get that behind again.
Last weekend I went to the Save the Children Blogger Conference at their London Headquarters. I was invited by Chris Mosler of Thinly Spread who works with the charity. It was such a wonderfully inspiring day which I will share in another post – plus we will be helping them with launching a new campaign very soon. At the moment they are running a campaign called Change the Story. A fifth of 7 year olds who come from the poorer families in this country are behind with their reading. Ross and I read to Grace on a regular basis and we love books in this house – they are an important part of who we are. We regularly concern ourselves with Grace's standard of reading and want to ensure that she never falls behind. Over on Save the Children's Facebook page they have been changing the story to some well know fairy tales to help support the charity – this is the Post by Save the Children UK. Why not go over and support them?
This week has been hard for me. Really hard. You know how sometimes people try and show how 'every thing is fine' – well, I'm not doing so good. The song 'Tears of a Clown' is my tune right now. Nothing to do with my relationship. Just lots of people rubbing things in my face. Not necessarily intentionally. I am just finding things much more noticeable at the moment. There are some things that should just be quietly accepted and not continuously shouted about when it was over a long time ago and people have moved on. There is also the ever increasing number of woman getting pregnant and the trouble with being a parent blogger is that it is everywhere. I nearly bottled it last night and spoke to Helen from All at Sea about the possibility of either her or Stephanie from Beautiful Misbehaviour hosting today but then, I stopped. I thought about it. Of course! Poetry is the best way to get things off your chest – so that is what I am doing today. Whilst I am really happy for lots of people, it doesn't stop the pain.
My Facade
There's a smile in front of my facade
It may look easy but I'm finding it hard
You put it right in front of my face
It's tough to find a happy place
I'm pleased for you, I really am
But how can I show it when I'm a sham
A lesser person of who I should be
Right now this isn't the real me
You bring things up that happened long ago
Hammer things home that I already know
Like the Beatles, please just let it be
There's no need to shout it continuously
The sounds so deafening. Thou protest too much
Your time is over, you ran out of luck
The essence of our life is change
So why continue? It just seems strange
I fight my feelings, I hide my pain
I'm hoping this isn't all in vain
I'm trying to get back to who I am
I want to live my great life plan
I need to give my loved ones my best
I need to try and I must confess
I know that once these feelings subside
It's all downhill for a happy ride
Victoria Welton 12th February 2014
If you have your own poem or piece of prose to share then grab my badge code and click the link below to enter your post. If you share a link back to my page in your post then you will be guaranteed some free publicity from me on Twitter! Don't forget to use #Prose4T when tweeting your post. Check out the Prose for Thought page for full details.



I would love some votes in the MAD Blog Awards please. I was there last year as a finalist and would like the chance to be there again. I'd love to be considered for Most Innovative and Best Writer. Please go across to http://www.the-mads.com/awards/ if you think I am worthy!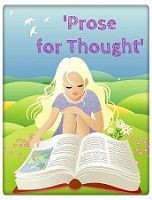 <div align="center"><a href="https://www.vevivos.com/prose-for-thought" title="Prose for Thought"><img src=" http://i1322.photobucket.com/albums/u568/ToriWel/Proseimagesmall_zps637beb08.jpg " alt="Prose for Thought" style="border:none;" /></a></div>
Copyright protected by Digiprove © 2014 Victoria Welton