Thank you once again to everyone who supported Prose For Thought last week. It has to have been one of my favourites so far – so many beautiful pieces of poetry and prose. I read them all a couple of times and it will be one of my most treasured posts.
For all those of you who don't know, April marks 30 days of Poetry writing in honour of National Poetry Writing Month – or NaPoWriMo. Today sees the fourth day of a poem written by me on my blog as I endeavour to join in with this challenge. Details of NaPOWriMo can be found here. My last three days of poetry are here, here and here.!
Today's poem was inspired by a very sad situation which came to light on Twitter on Tuesday. I went over to Tweet Cathy who blogs at Wicked World of Lucas (I was feeling guilty as I hadn't got round to reading her wrestling blog) when I noticed a conversation with Mischievous Mummy. Her niece had had an argument with her boyfriend on Monday night. She ran away from him. He ran after her and was tragically run down by a car and killed. She is 15 and he was 16. I told Jetta at Mischievous Mummy that I would write something for Prose For Thought and dedicate this poem in NaPoWriMo to them.
Too Soon
A life cruelly removed from this earth
Far too soon, too near his birth
Trying to save one, his soulmate?
Seems so cruel his soul to take
Trying to help, it was all in vain
To wipe her tears and remove the pain
Fate has dealt a shocking blow
How could it be his time to go?
Aspirations, hopes and dreams
Fallen apart, ripped at the seams
In one so young with so much hope
On that night, they fell and broke
But what about her, who's left behind
Just please give her the strength to find
Some peace and solace in her heart
Knowing that they are ever apart
Keep her safe, please keep her strong
Help her see she did no wrong
A young love's tiff, happens all the time
Why it happened?  No reason, nor rhyme
Angels tell her to feel no shame
Whisper to her, she's not to blame
Help her to live life strong and true
That's what he would want her to do
© Victoria Welton 4th Ap
ril 2013
I would really love and appreciate your comments below – and please, go and visit and comment on, the poems from the people who link up
If you have your own poem or piece of prose to share then grab my badge code and click the link below to enter your post. If you share a link back to my page in your post then you will be guaranteed some free publicity from me on Twitter! Don't forget to use #Prose4T when tweeting your post (and #NaPoWriMo this week).  Check out the Prose for Thought page for full details.



Like what you see? Then please consider a vote for this blog in the Brilliance in Blogging Awards (BiBs). Just click on the badges to your right near the top in the side bar and they will take you to the relevant voting site. A big thank you also to everyone who voted for this blog as a finalist in the Most Innovative Category in this years MAD Blog Awards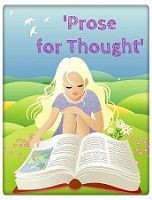 <div align="center"><a href="https://www.vevivos.com/prose-for-thought" title="Prose for Thought"><img src=" http://i1322.photobucket.com/albums/u568/ToriWel/Proseimagesmall_zps637beb08.jpg " alt="Prose for Thought" style="border:none;" /></a></div>
Copyright protected by Digiprove © 2015 Victoria Welton