And now the end is near…and so I face the final curtain. To say that I am sad that this is my last Post Comment Love is a bit of an understatement. I am typing this with tears in my eyes. This linky has become quite a community and first and foremost I have to say a big thank you to all linkers – old and new – who made this linky such a success for me.
Little did I know when I first started Post Comment Love back on 22nd March 2013 that this linky would become quite as big as it did. I have a Twitter list of 424 linkers, past and present. I have hosted 234 newbie showcasers (including Elaine today) and so many people have said to me that this was their very first linky. I feel so honoured. But now I feel that it is time to move on to new chapters. Do more of what I love and create more poetry, food and photography. Write more personal posts and, in the New Year, I shall be sharing a brand new vlogging diary that I have been keeping since September. One thing I do intend to do is go round and subscribe to as many linkers blogs as I can – that way I won't miss out on what you are all up to!
My last Post Comment Love is a bumper Christmas edition – where you can link up any post, as many as you like, from the last week and next! This means that it will be open until Christmas Eve!
But enough of me. I would now like to introduce to you not one, but two new hosts for Post Comment Love. As any blogger who hosts one will know, linkys are ruddy hard work. I thought it best to give this to two people to help share the load – and I have to say that I have offered to cover from time to time when they can't do it!
First up is Stephanie from Life at 139a. She blogs about life in general and that includes homes and gardens, interiors, gardening, days out, cycling and crafting. All the things she loves. She has been a regular linker and knows how PoCoLo works. Find her on Twitter @LifeAt139a
The second host is Morgan from Morgans Milieau. She writes about her two boys and includes posts about days out and general family life as well as reviews. She has also been known to write poetry and has not only linked up to PoCoLo but also Prose for Thought. Find her on Twitter @MorganPrinceCom
They will both still be hosting the newbie showcase and giving them some Twitter love (which is the whole reason I tweeted so many people every Friday morning – so sorry if I got on your nerves!!). Post Comment Love is back on 8th January and I will give you more information as and when I can. Make sure you are a member of the PoCoLo Facebook group if you would like to keep track of what is happening. Plus I will be making that a more helpful place!
The Facebook Group and Google + Community will still be going and Stephanie and Morgan will also be admins.
So….for the final time…
If you are a regular here then it would be great if you spread the #PoCoLo word. However, if you are new here then welcome! Post Comment Love is all about sharing posts which you have written this week which just haven't got the attention they deserve and, with them all in one place, we can help each other share the comment love. This is one of the easiest links EVER. You don't have a 'special theme' to have to write about, the post can be personal, sponsored, a photo, a review, a competition, your own linky, something you've linked to a linky….WHATEVER you like – it's one you've already written this week! If you want some publicity and attention, then you are in the right place!
Please make sure you go across and comment on at least two other linkers posts. Linkys work if everyone supports each other, then, spread the #PoCoLo about this link up on Twitter. The post you link up has to have been written in the last week. The link will go up every Friday at 6.30am and this time will close at 8pm on Christmas Eve. I will make sure I retweet anyone and also try my best to tweet out the posts with the PoCoLo badge being displayed on either the post or the sidebar.
I have a list for the Newbie Showcase running into May 2016. Please note that Stephanie and Morgan will be taking over the rota and will be in touch.
I would like to introduce you to my very last newbie showcase. Please give some blogging love to Elaine from Entertaining Elliott.
Hello, my name is Elaine and I blog over at
www.EntertainingElliot.com
. I started the blog in July 2014 and it was started after a particularly stressful shopping trip (
http://www.entertainingelliot.com/2014/07/co-op-carnage.html
) with my son in his buggy – I felt the needed to rant so my blog was created! It's not all ranty though – over the last 18 months it has evolved into more of an online diary of what we get up to with lots of photographs along the way. Elliot is 3 and it's such a fun age and I love to write about all the exciting days out we have or activities we do at home. I'd love to be a Pinterest Mum but I'm not very good at baking (
http://www.entertainingelliot.com/2015/02/how-not-to-bake-cakes.html
) and my craft skills are a bit questionable…but we have lots of fun!
I hope to attend more blogging events next year and I would love to take blogging to the next level!
Social Media:
Don't forget to visit Laura and at least two other posts on this link up (don't mind if they are not mine!). Remember in this bumper edition you can link up last weeks and next weeks posts!
I would like to thank you all for your supportive words, comments and good wishes. I love how this linky has kind of become a community of it's own. Long may it continue!
Wishing you all a very Merry Christmas and a Happy, Healthy and Prosperous New Year. Thank you and goodbye! xx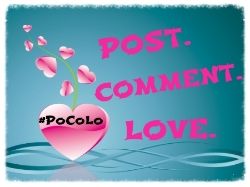 <div align="center"><a href="https://www.vevivos.com/post-comment-love" title="Post Comment Love"><img src=" http://i1322.photobucket.com/albums/u568/ToriWel/4e4a1bf6-07cb-494b-b06e-f959b1fe1311_zps654d027a.jpg" alt="Post Comment Love" style="border:none;" /></a></div>
Copyright protected by Digiprove © 2015 Victoria Welton